The White Broderie Anglaise Fabric Is Never Out Of Time
What Is The White Broderie Anglaise Fabric?
The White Broderie Anglaise Fabric is a distinctive fabric characterized by its small hole design. It has a very long history which came from England in the 17th century and was originally used to make underwear and pajamas. Today, it is still widely used to make those items, but it has also been adopted by designers who use it in their clothing lines.
Its base fabric can be made in cotton, polyester or linen. The yarns are woven together to create a lightweight fabric that can be worn as an outer layer or undergarment, depending on how thick the material is. It's often used as an undershirt because it keeps you warm without adding too much bulk to your outfit.
The White Broderie Anglaise Fabric has been around since at least the early 16th century when Queen Elizabeth I wore a white undershirt made from this type of fabric during her coronation ceremony. The style became popular among nobility during this period, with many women choosing to wear white undershirts beneath their extravagant gowns so that they could remain cool even on hot summer days.
White Embroidery Anglaise Fabric features a pattern of circular or oval holes. These round or oval shapes are called eyelets. Designers sew the eyelets with female thread or buttonhole stitches. Common patterns of White Embroidery Anglaise Fabric are flowers, leaves, vines, or stems.
What Is The White Broderie Anglaise Fabric Suitable For?
Broderie Anglaise fabric is a lightweight, sheer fabric with a delicate and elegant texture. It has been used for centuries as an overlay in women's clothing and as a lining for dresses and blouses. The word anglaise means "English" in French, and embroidery anglaise fabrics are believed to have been introduced to France by English courtiers who brought them back from England.
As an type of embroidered fabric with a long history, Broderie Anglaise Fabric has strong versatility. It is suitable for the following clothing or decoration:
1. Women's Clothing Such As Skirts, Dresses, Blouses And Tops:
Broderie Anglaise fabric has always been popular among women's clothing designers. They love to use it to make dresses, blouses and skirts for their customers. The reason why they prefer this fabric is that it is soft and comfortable to wear, so the wearer feels comfortable when wearing them. The other reason is that it looks elegant and beautiful, which makes you look more charming and beautiful than ever before.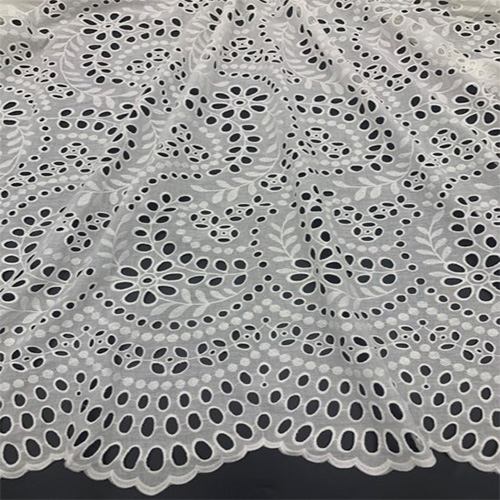 2. Kidswear such as Dresses and Tops
Due to this charming appearance and skin-friendly to kids, broderie anglaise has long been one of the most popular fabrics for Children's clothing. It looks wonderfully sweet when made up into summer dresses and tops for little ones.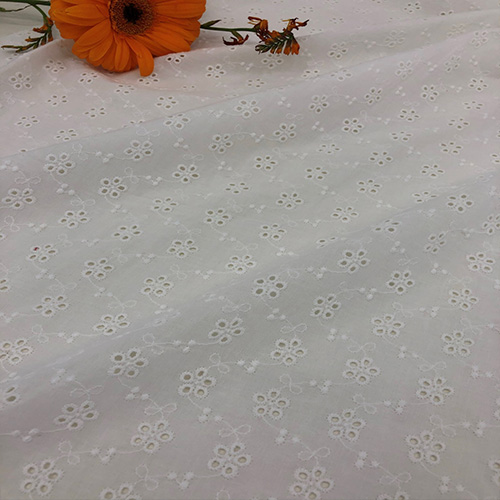 3. Home Decoration Such As Curtains And Pillows:
It can be used as a curtain in the living room, bedroom, and even dining room. The embroidery on the curtain adds some sense of luxury to your home. You can also use this fabric to make pillowcases and bedspreads.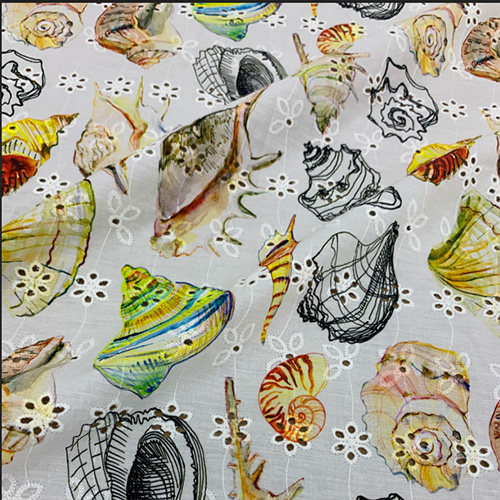 4. Fashion Accessories Such As Handbags And Wallets:
Its eyelet embroidery style will make these bags look chic. Because embroidered bags are rare, White Embroidery Anglaise Fabric is a good choice if you want to create some bags of your own.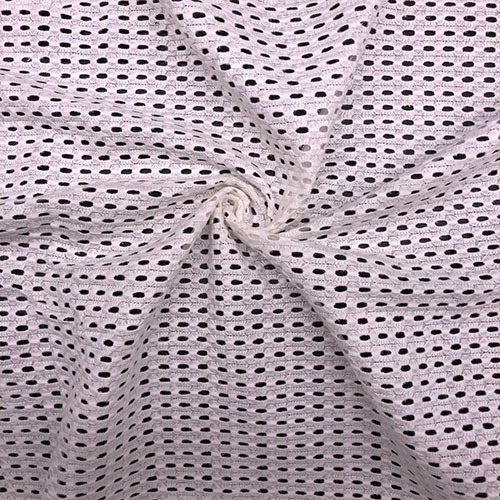 5. Car Accessories Such As Car Seats Or Headrests:
These embroidered fabrics are made of high-quality materials, such as pure cotton. It will make people feel very comfortable to touch. If you want to decorate your house or car, choosing to use this fabric with a uniform color and style will make the design easier.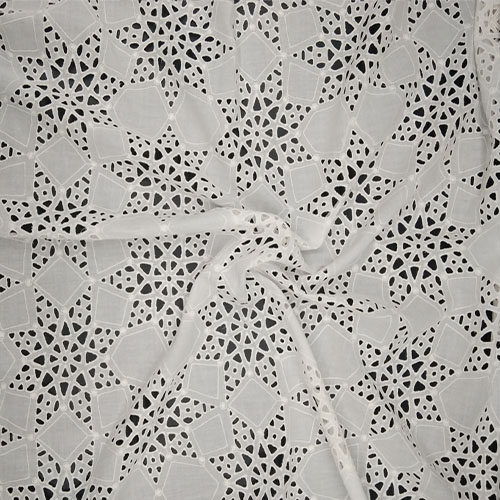 Why The White Broderie Anglaise Fabric Will Never Be Out Of Time?
The White Anglaise Embroidery Fabric has been popular for many years, and it's still hot in the market now. It's not only because it is beautiful but also because it has advantages and features that make us love this fabric.
Chic And Elegant:
The white Broderie Anglaise fabric has a chic and elegant style, which is perfect for any occasion. This kind of fabric will never be out of time because it always make a textural statement-tactile and dynamic. And it also looks great in any color combination. You can choose from many colors such as black, brown or grey. If you want to get a classic look, you can choose black or grey as your main color, then add some details in brown or other colors that match your skin tone.
Lightweight with fluid drape:
The White Anglaise Embroidery Fabric is soft and lightly textured, which makes it smooth, supple and intriquing in hand. This light and airy fabric moves with ease providing an easy drape, which makes it a wonderful choice for day dresses, full skirts, decorative blouses and more.
Skin-friendly:
The White Anglaise Embroidery Fabric is made of highly-quality cotton. Wwhich is skin-friendly to women and children. Extremely textured with beautiful eyelet designs adorning the fabric, it is breathable and great to wear during warmer climates.
Lightfastness:
This fabric has good color fastness and light fastness, so if you buy this kind of embroidery fabric from a professional manufacturer in China, you don't have to worry about its color fading away when you wash it with water or sunlight exposure for a long time.
The Computerized Embroidery Machine Can Make A High-quality Broderie Anglaise Fabric:
Machine embroidery is a kind of embroidery technique that is based on computer-aided design (CAD). Thanks to the computer knowledge, the Broderie Anglaise fabric can be produced in mass production and its technology is very mature. This method can save time and labor costs for designers and manufacturers, allowing them to quickly produce high-quality products with complex patterns.
In the process of machine embroidery, designers can develop any designs based on customer's requirements. These fabrics are available at VIVATEXTILE.
The Advantages of machine embroidery in making Broderie Anglaise fabric are as follows:
Machine embroidery is mature and more flexible because it can embroider any patterns, which makes the fabric looks more beautiful and dynamic.
It is easy in mass production, so that it can meet the large demand in the market and the price can be affordable for most of the consumers.
The quality of the fabric is good and durable, which can make your clothes look more elegant and fashionable.
VIVATEXTILE Provides Perfect White Broderie Anglaise Fabric:
As a professional embroidered fabric supplier in China, VIVATEXTILE has mature technology and high aesthetics in embroidered fabric production. It not only offers you the elegant White Broderie Anglaise Fabric in high quality and in competitive price, but also do development and flexible sampling for you based on your customized designs to make your garment become unique. If you want to make your inspiration as it is, VIVATEXTILE will be your reliable partner on embroidered fabrics.