Ivory-White Bridal Lace Applique: Make The Wedding Dreamy
What Is The Ivory-White Bridal Lace Applique?
The lace applique is widely used in bridal gowns, wedding dresses, and other kinds of party dresses. It can be made into appliques for different shapes, such as flower shapes, butterfly shapes, bow shapes, and so on. The lace applique is made with delicate and beautiful lace material. It has become one of the most popular elements in bridal dresses. It can add a sense of elegance to your dress even if it only appears on your shoulders or back.
The ivory-white bridal lace applique is a kind of lace that is made by hand with high-quality material. It features a unique combination of light white color and delicate design to create a gorgeous look for your wedding gowns or other special occasions. This type of lace is usually attached to the back side of the dress using invisible stitches to keep its original appearance intact while providing you comfort during the wearing process.
Because the usual and popular wedding color is pure and beautiful ivory white, this applique is liked by many people. Designers like to use it to add a bit of sacred and pure elements to wedding dresses, such as using it to make a butterfly or a flower on the bride's chest. Wedding planners also like to use it to embellish tablecloths, curtains, etc. White is the purest-looking color, and when the sun shines, it glows, making the entire wedding scene look dreamlike.
The Color Ivory-White: The Best Choice For The Weddings
The color ivory-white is one of the most popular wedding colors. This color is considered to be a classic and elegant choice for weddings. It's a great choice for both brides and bridesmaids because it goes well with almost any other color scheme.
Ivory-white is often used as the background color for weddings, whether it is the scene arrangement of the wedding or the matching of clothing. But in recent years, many people are trying some new color schemes to make their wedding look different and full of beauty at the same time. At this time, white remains their popular choice when it comes to colorways:
Ivory-White And Red:
Ivory-white and red are two colors that have been widely used in weddings in recent years. The combination creates a sense of refined elegance and noble temperament. There are some white lace flower accessories that can be used as decoration during your wedding ceremony or even during your honeymoon. The ivory lace flowers will also be perfect for your bridal bouquet!
Ivory-White And Blue:
If you want a more classic look, then ivory-white dresses with blue elements may be a good choice. Blue is an elegant color that can add elegance to any style of dress without being too flashy or intrusive. The blue can also help create a sense of calmness and peacefulness when combined with ivory-white dresses.
Ivory-White And Yellow:
Yellow is a bright color that makes your wedding look cheerful and happy. You can add yellow roses or peonies in the arrangement or on the bride's dress to bring out the beauty of this color scheme. At the same time, ivory white is also a pure color, and using ivory-white bridal lace applique with yellow will create a wonderful visual experience!
Many Types Of The Appliques Will Suitable For Different Wedding:
Appliques of different shapes have different meanings, they will be suitable for different styles of weddings, giving people a sense of harmony and happiness. Here are some examples of popular bridal lace applique from VIVATEXTILE:
This is an impressive work of craftsmanship. Comes in a variety of colors, the blooming sequin flower applique has iridescent sequins of the petals and acrylic tubes with white beads spreading out over the petals. This is a very good add-on to any creative wedding dresses and gowns.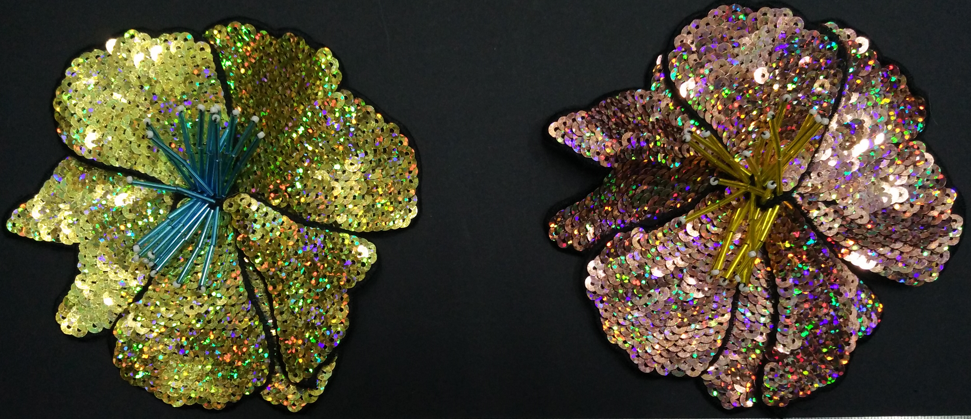 Beaded appliques are also very popular with fashion wedding designers. Guipure Flowers are elegant and dynamic to add dimension, while glittering beads decorating on the flowers add a bit of shine giving a surprising a 3D effect. Create overall grace and sophistication to your piece with this applique.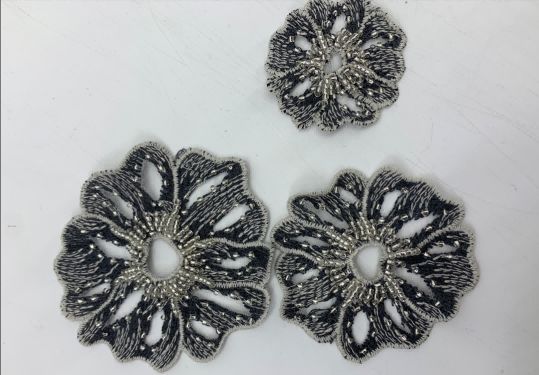 Flower shapes are always popular with wedding planners. Because in many countries, beautiful, vibrant flowers always represent women. So at many weddings, flowers are always essential. In this fabric, multicolored sunflowers bloom on black nylon mesh in a 3D effect, and the delicate edges add a refined and elegant style. At the same time, the fabric is made of 100% nylon mesh and 100% polyester emb yarn, which is very comfortable and soft in hand-feeling.
Floral lace Neck Applique:
The decorative floral lace neck applique is normally made by 100%polyester, strictly woven and with full details. It has a beautiful floral design with finished edges that twist and curve for a distinct layout to form a decorative neckline. A beautiful high-end neck applique is most definitely a couture valued add on to those gorgeous wedding dresses, gowns and cocktail hour dresses.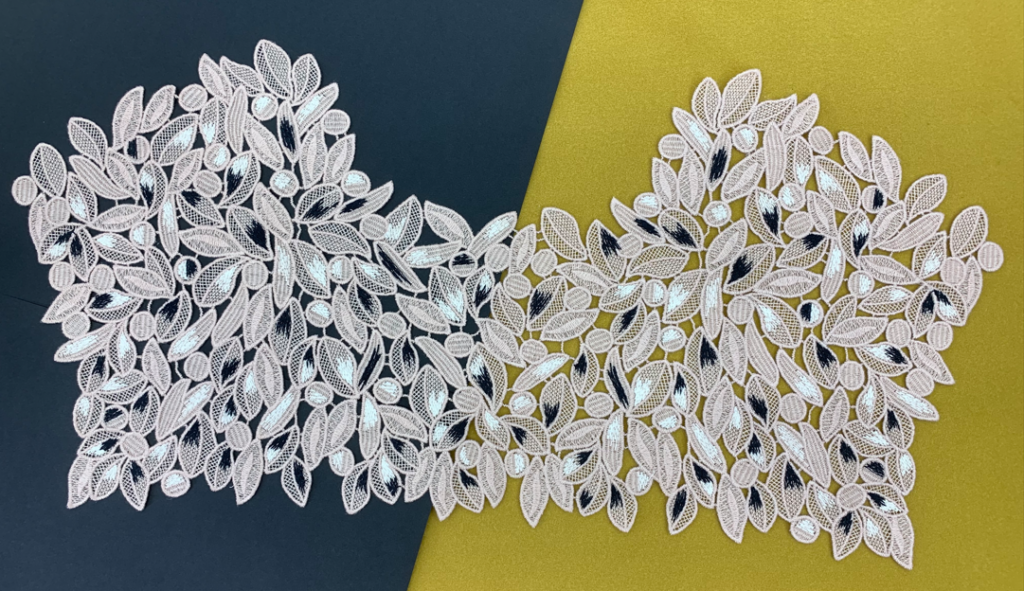 Ivory-White Bridal Lace Applique Will Make The Wedding More Dreamy
The dreamy white wedding is the most beautiful scene that many girls dream of. So those wedding planners and bridal designers, etc. are making dreams come true for girls. And Ivory-White Bridal Lace Applique will be good material in the process of realizing the dream.
It Can Be Widely Used In Wedding Decorations:
Because ivory is a common and popular wedding colorway, whether it's for bridal gowns or tablecloths, so the ivory-white lace applique is also very popular. It can be widely used in wedding decorations: from bridal gowns to tablecloths, from veils to flowers. The lace applique can be made into any shape, such as flowers and leaves, or even letters and words. It is an easy way to decorate your wedding.
It Helps To Be More Eye-Catching:
If you are going to make a wedding dress, one of the most important parts is the design. The design of a wedding dress is very important as it will help to make your wedding more dreamy and memorable. The application of bridal lace applique will be a great addition to the wedding dress, which is sure to elevate your bridal look into something absolutely stunning. If you want to make your wedding dress more eye-catching, then you should choose a beautiful lace applique for the wedding dress.
It Helps To Improve Creativity In Designing:
As there are so many different designs available in this lace applique, so it will help you to improve your creativity in designing. You can select any design according to your choice and budget, and it will help you in designing your own unique style of wedding dress.