Embroidered Mesh Trim: Make Clothes Beautiful
What Is The Embroidered Mesh Trim?
Embroidered Mesh Trim is a kind of fabric accessory which a simple tulle netting establishes its composition's foundation and intricately woven embroidery over it with an overall light-hearted appeal. It is a light, thin and soft fabric. The primary material used in this product is polyester. This product can be used for skirts, dresses, shirts, blouses, and other garments.
It is a kind of trimming material that can be sewn onto clothes to make them more beautiful and attractive. It has a wide range of uses and styles, which can be matched with any type of clothing. It can also be used as decoration on curtains or pillow covers.
As a popular fabric accessory, it has its own characteristics:
Mid-Century Retro Aesthetic:
The embroidery design on the fabric makes it look very retro. It is very popular among young people who like vintage clothing. This kind of fabric is also very suitable for summer wear because it does not add too much weight to the body, making it comfortable to wear in hot weather.
Lightweight:
This fabric is lightweight fabric that makes it easy to wear any style of clothing without feeling uncomfortable or heavy under the sun's heat. It is ideal for summer apparel such as skirts and dresses, especially for those who are fond of wearing light and airy outfits in summer. In addition, this type of embroidery can be used as an ornament on clothes to make them more beautiful and attractive.
Softness:
This fabric has a high softness that allows you to feel comfortable when wearing it. In addition, the embroidery design on the fabric makes it more charming and stylish.
Good Flexibility:
The good stretch of Embroidered Net Fabric Trim allows you to move freely without worrying about getting wrinkles on your clothes. The fabric can be stretched to up to 10 percent of its length without breaking.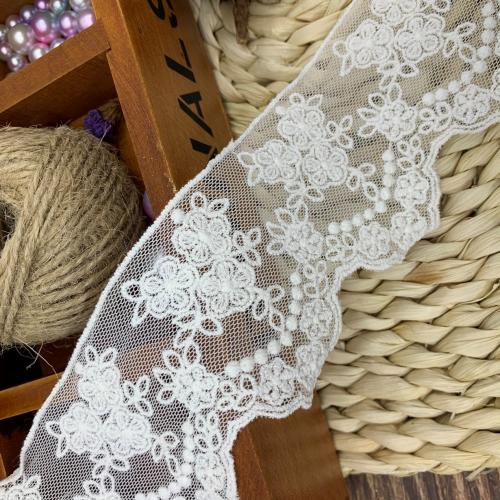 What Is The Trim Design For?-Add Beauty To Your Clothes
Trim (embroidered lace trim) is a common fabric accessory used to add texture and details to clothing. Delicate in nature and carrying a romantic and fantastic sense of taste, you can find it widely appears not only on waistlines, hemlines, necklines, shoulders and more as embellishment, but also on home textiles as decoration. It can be made in many different shapes and width. You can find embroidered net fabric trim online or at a local craft store. The most popular types are embroidered mesh trim, embroidered eyelet trim and embroidered lace trim.
But do you know why there is a trim? What was it originally designed for?
In fact, it is not difficult to understand why people need a trim. The original function of the trimmings is to strengthen the body and protect it from adverse weather conditions. For example, leather belts are used to protect the waist from being injured by sharp knives or swords.
The main purpose of using these trimmings is to make clothes beautiful. In fact, people have been using various types of materials for this purpose since ancient times. For example, there were various types of embroidered nets in ancient China, which were used as decorations on clothes.
Today's modern cities are full of fashion trends, so many young people like to wear an attractive piece of clothing that looks good on them and makes them feel good about themselves!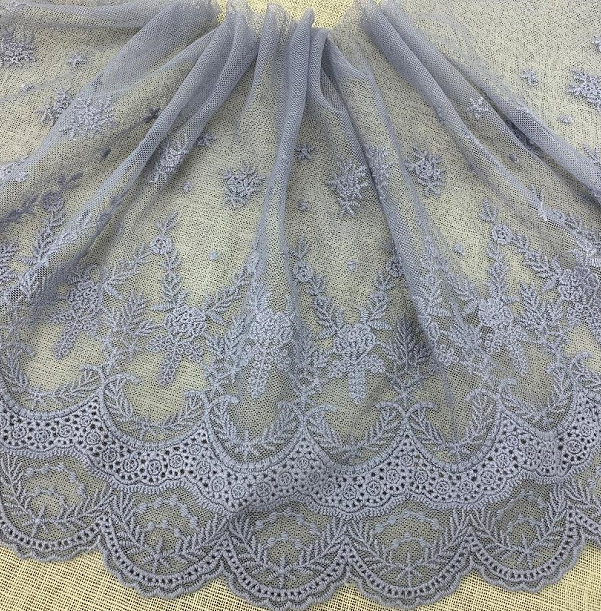 The Embroidered Net Trim Is Special:
Embroidered Net Fabric Trim is a delicate woven fabric with an openwork pattern of holes or "eyes" that form a design when viewed from above. It comes in many different width, shapes, and colors. The lace trim has been around since the Middle Ages when it was mainly used for clothing embellishment and decoration. Today it's still used for clothing embellishment but also for other things like trimming on curtains or lampshades or even furniture decorating. Trim can be made from natural materials such as silk or cotton threads or synthetic fibers like acrylic yarns or polyester threads.
This delicate and beautiful fabric upholstery can add more charm to designer clothes, and crafts:
Add Visual Interest:
Embroidered net fabric trim adds visual interest to any project. It can be used as an overlay on top of other fabrics or as an accent piece on its own. The embroidery adds texture and detail that makes this fabric unique. Use it in place of ribbons or bows when making gifts such as baby shower favors or birthday presents for friends and family members. The embroidery also adds color to any project so you don't have to worry about finding matching ribbons or materials.
Make Clothing Look More Expensive:
Many people may have difficulty distinguishing the price of a piece of clothing or handicraft, but they can see their value from their work. Use Embroidered net trim to make your piece more refined and show the effort you put into the piece. At the same time, this will make people willing to pay for its more expensive price.
The Embroidered Net Trim Is Suitable For Any Season:
Because the appearance of Embroidered Net Trim is exquisite and beautiful. As an ornament, it can be used in a wide variety of seasons:
In spring, it can be used to show the bloom of flowers. In summer, it can be used to show the beauty of clothes. In autumn, it can give clothes with more details. In winter, it can brighten the beauty of plain clothes.
It is precise because of its versatility that it will be liked by more designers. It has also become the muse of inspiration for many famous designers. Some designers even use this fabric to make some beautiful bags, which are amazing. So what else can it be used for? We can then look down.
How Can The Embroidered Net Fabric Trim Make Your Clothes More Beautiful?
Embroidered Net Trim is a kind of trimming which can be used for decoration. It is made of embroidery and net fabric. The embroidered net fabric trim is usually used on clothes, shoes, bags, and other accessories. It has a special effect to make your clothes beautiful and eye-catching:
Dresses:
Embroidery is often used in dresses, skirts, and other female garments. It can improve the overall look of your dress, as well as make it more fashionable. If you want to wear a simple dress but still want something special, try Embroidered Net Trim on the dress!
Bags:
The Embroidered Net Trim can be used to decorate bags such as ladies' handbags and wallets (especially large capacity), which will make them more elegant and beautiful.
Garments:
The Embroidered Net Trim can be used to decorate garments, such as blouses, skirts, dresses, and jackets, which will give them a sense of luxury.
Home Textile:
You can find embroidered net trim is widely applied into home textile as well as trimming on the curtain fabric, scalloped edges of the table cloth or embellishment on bedding and pillows for for creating a romantic and elegant mood.
Conclusion:
As a company specializing in the production of exquisite machine-embroidered fabrics, VIVATEXTILE can provide you with high-quality Embroidered Net Trim to meet your needs. In VIVATEXTILE, you will see a lot of fabrics with exquisite patterns in different sizes, they will become your muse of inspiration, a good assistant for your clothing design, and the best choice for you to succeed and get more customers!