Bridal Fabrics: Secrets To Choosing The Perfect Fabric For Your Bridal Gown
What Is Bridal Fabric?
At the end of most fairy tales, the princess put on a beautiful wedding dress for the prince and walked into the palace with a perfect ending.
Every girl is the princess on the day of her wedding. A wedding is a perfect dream and wearing a dream wedding dress is the most important thing in her life. It is a longing for love and happiness.
Bridal Fabrics are the fine fabrics that are used to make stunning and exquisitely beautiful dresses for brides. we are much honored to present you our collection of haute couture bridal fabrics.
There is a wide selection of fabrics that can be used as bridal material to fit every budget without compromising on quality. From Premium Whisper Silk Organza to White Stretch Silk Charmeuse and Silk Duchesse Sati, not to mention other options of sheer fabrics such as tulle, chiffon, organza, and georgette.
There are also brocades to add texture, or our romantic selection of embroidered lace fabrics, from floral to geometric designs which is sure to elevate your bridal look into something absolutely stunning.
You should also keep in mind that bridal fabric doesn't just come in white or ivory colors; there are also different color shades such as neutral, red, saturated, pastel, jewel tones and etc.
The white wedding dress is to symbolize innocence, purity, and loyalty, of course, to distinguish it from the bride, it comes in a variety of colors for the mother of the bride and bridesmaids.
They are there to support the bridal and prove the happiest moment of the bridal and they need the perfect custom dress for the wedding party to look great.
Vivatextile--It is the best place to buy bridal fabrics. We offer a wide selection of bridal fabrics for sale and free shipping all over the world. We have a variety of colors and styles available for you.
Our fabrics are of superior quality and we offer competitive prices on bulk orders.
Bridal fabric is a type of fabric that is used mainly in the making of wedding gowns. It is usually made of silk, polyester, cotton, or nylon.
The supplier usually provides the bridal fabric in different colors and patterns to meet the customers' dynamic needs.
Bridal fabric comes with different features that make it more desirable to many customers. Some of these features are:
Light, sheer, elegant and hard in hand-feeling like mesh tulle, and organza fabric, it is most commercial, and widely used as bridal fabric.
The soft and elegant texture of the yarn can reflect the romantic and hazy beauty of the wedding dress.
Opaque, soft, and smooth with a fluid drape like silk. Feathering with a lovely sheen, it has a natural sense of nobility in this kind of wearing. It is perfect for simple and fashionable straight or fishtail wedding dresses.
Romantic and with exquisite texture and designs like brocades, Lace and embroidered fabrics, they can be used as accessories of the wedding dress and the body fabric as well.
Like some wedding dress brands, wedding dresses made by lace or embroidered lace fabrics are expensive, but it is worthwhile.
Unique designs whether it is floral or geometric make the dresses full of elegance and luxury.
Why Do Embroidered Lace Fabric as Bridal Fabric Have Such Great Charm These Days?
The wedding is the most important day in a woman's life. She is the focus of interest in experiencing the most glorious moment in front of her family members and friends on this day, and the wedding dress can be kept in her wardrobe as a witness of this happiest time in her lifetime, which is why the wedding dress is so important to the bridal and every woman would deserve the best if the budget permits.
The embroidered lace fabric is undoubtedly the most ideal fabric for a dream wedding dress. Sequin & beads fabrics, embroidered &eyelet, and guipure lace are mostly used as bridal fabric in the embroidered lace fabrics.
Sequin & beads embroidery fabrics refer to that sequins and beads of the same shape and size being connected as a thread and then embroidered on a flat embroidery machine with sequins and bead embroidery device.
Sequin and beads provide a strong luxury and stylish expression. Intricate patterns of floral or geometric designs take over the white netted materials with sequins and beads spread out all over. Sparkle meets luxurious design revealing the overwhelming beauty of the fabric.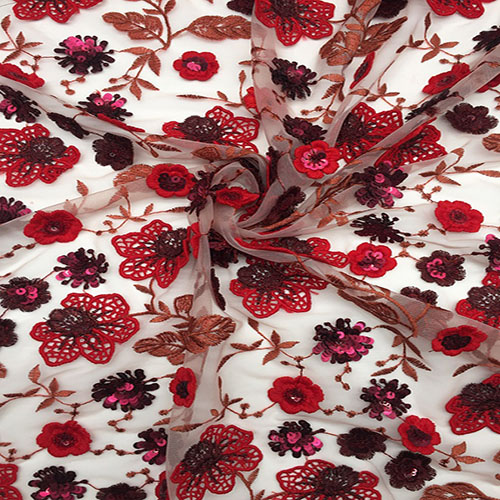 Embroidered & Eyelet fabric is a desirable bridal fabric if you pursue a natural look and breathable quality. Its base fabrics normally mesh tulle, nylon organza, or cotton voile.
Lightweight and with a flexible drape, which guarantees a match made in heaven exhibiting darling designs with embroidered flowers in a soft impression.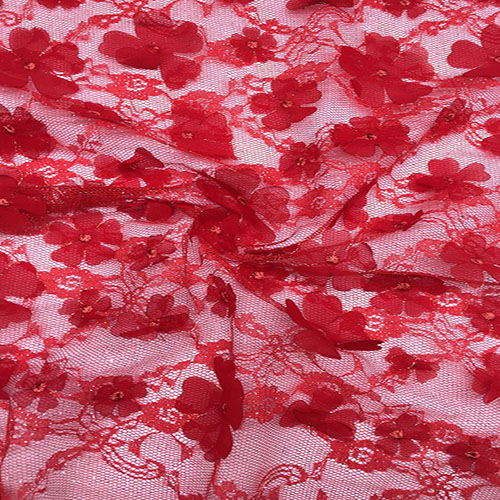 The chemical embroidery fabric presents an exquisite full hollow-carved flower pattern with a three-dimensional appearance, soft touch, and full of artistic sense. It is a delight who want to create a novelty look.
And nowadays, the bridal fabric is not only for wedding use, it is also widely used in fashion fields.
They can be crafted into evening dresses, fashion dresses, skirts, gowns, and blouses.
The Advantages of Bridal Fabric Wholesale:
1) The widest selection of bridal fabric in the most fashionable designs
You can cut down on your time spent shopping around for the perfect fabrics.
There are hundreds of designs and colors available for you to select from and meet every need for creating wedding dressed, bridesmaid dresses, mother-of-the-bride gowns, and more.
2) Quality assured at a competitive price
Quality is assured as bridal fabric wholesalers are professional in this field. And you are able to get a better price from them in bulk buy.
3) Customized designs are acceptable
If your budget permits, they can even customize your own bridal fabric to enable you to make a unique dream wedding dress, bridesmaid dress, or mother-of-the-bride gown of your own.
There are hundreds of fashionable embroidered lace fabrics running in our factory.
30-50 new designs are updated every month. We are thrilled to offer new and exciting embroidered fabrics to our customers.
Superior quality and timely delivery
Most of our customers are foreign brands, Our manufacturing is strictly abided by the quality standard under the 4 Point System to ensure quality bulk output and timely delivery.
When you buy our fabrics, you get the quality same as our branded customers.
We are a professional embroidered fabric manufacturer in China. Our products are widely used in wedding dresses, evening dresses, prom dresses, and so on.
Customized designs and flexible sampling
We are strong in R&D and would like to do development with you based on your customized designs.
We also can do flexible sampling and bulk orders In MOQ to help your bridal brands to start.
Conclusion:
Bridal fabric is a special kind of fabric for brides who are looking to make their own wedding gowns. It needs to look romantic, elegant, and luxurious.
Bridal fabric is available in many different types of fabrics including silk, satin, chiffon, cotton voile for a simple choice, or brocade, lace, and embroidered lace fabrics for a sophisticated and romantic effect.
Bridesmaids' dresses can also be made from bridal fabric, it is also possible to find bridal fabrics in other colors besides white as well as patterns such as damask or floral designs that can create the perfect custom bridesmaid dresses to match any wedding theme.
Vivatextile has all the bridal fabrics you need to bring your dream wedding gown to life!
Please feel free to contact us, we are ready to work with you on bridal fabrics.