Get Ahead of the Curve: Fabric Trends In 2022
What Elements And Colours Become The Fabric Trends In 2022:
Fabric Trends In 2022, will be trending and fabric options started with bright bold colours such as reds and pinks, clashy patterns and with some traditional elements.
As far as the fabrics are concerned they will be raw unstitched elements like Stripe patterns, florals, and a lot of folk looks.
A lot of the fabrics will carry a rustic denim look which is going to be the most popular fabric for sportswear.
Depending upon availability, versatility, and consumer demand, upmarket brands will choose designer fabric for their apparel line.
Elements:
Metallics:
The use of metallic fabrics has become very common in recent years, so it's no surprise to see them make their way into the fashion industry. Metallics are used in clothing, accessories, and even furniture pieces.
Metallic fabrics are most often seen in evening gowns and cocktail dresses, but they can also be found in other types of clothing like jumpsuits and blazers.
Metallics come in the form of gold, silver, bronze, or copper tones. They are often paired with other fabrics like cotton or silk to add a luxurious feel to your ensemble.
Pleats
Dynamic pleated constructions, some through fabric manipulations, are creating a new feeling of freedom. Super light volume is created by fibers such as lyocell, tencel, cupro, recycled polyester, and recycled nylon.
Structures such as taffeta-touch organza and use fan or knife pleats to give a crisp finish. Heat-set and stitched techniques feature abstract layouts while micro pleats give off a more undulating effect.
Florals:
Floral prints are a classic trend that never seems to go out of style — especially with spring right around the corner! Whether you opt for florals on your top or bottom half, this pattern will add personality to any outfit without being too overbearing or loud.
Such as the classic embroidery of floral patterns: Hungarian Embroidery. It combines flowers such as tulips, lilies, roses, etc., presenting a unique visual enjoyment.
Lace:
This is an element that has been around for centuries and it will continue to be popular in 2022 as well. Not only does lace add a feminine touch to any outfit but it also makes it unique, as no two pieces of lace are exactly alike.
It comes in many different types and sizes and can be used as a trimming or even as an entire garment!
Unique Texture:
This is one of the most popular elements when it comes to fabric trends. There are many different textures that you can use for your clothing and home decor.
These textures may include embroidered fabric, velvet, suede, or even leather. If you want something that is more modern, then you can try a metallic or plastic texture that will look amazing with any type of clothing or furniture.
Colours:
Klein Blue (dark, deep blue-green):
This is a dark color that is similar in tone to navy blue, but it has more of a greenish hue to it. If you want to wear this color, make sure that your pants are a lighter shade of the same colour so that they don't look too heavy or dark when paired together.
Olive Green (a mix of olive and khaki):
This is another neutral colour that can be paired with other bright colours like neon yellow or neon pink without looking out of place.
It's also a great choice for winter because it will keep you warm while still being able to stay on trend with fashion!
Neon Pink And Neon Yellow:
These bright colours are very popular right now because they add an extra pop to any outfit!
If you're not into wearing these colours head-to-toe, try pairing them with a more muted shade like olive green so that they don't become overwhelming.
Unlock The Code For 2022 Fabric Fashion:
1. Embroidery With Digital Print:
Embroidered fabric with digital print is a perfect combination of embroidery and digital print. By digital printing on the embroidered fabric, they complement each other perfect on the finished products which makes it look more colorful and sophisticated.
The unexpected surprising effect produced makes it a popular designer fabric in garment lines.
Such as VIVATEXTILE fabric ss130701:
Cotton Wave Eyelet on Polyester Chiffon. This eyelet fabric is perfect for making dresses, skirts, and blouses. The wave eyelet and flowing drape create a stunning textural. The fabric is thin and lightweight, slightly translucent, and may require a lining in some applications.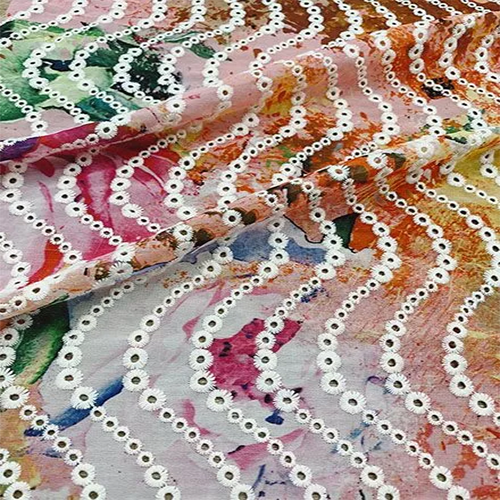 2. Chemical Embroidery:
The chemical embroidered fabric also called as guipure lace fabric, it takes water-soluble non-woven fabric as ground fabric embroidered by computerized embroidery machines. The ground fabric is melted in hot water afterward with three-dimensional guipure lace left.
This technique is particularly suited to creating subtle textural effects on natural fibers like cotton, it can also be used on synthetic fibers such as polyester.
Without ground fabric, guipure lace is known for its tightly woven mesmerizing texture formed to create a beautiful and delicate pattern.
A polyester Geometric Guipure embroidery of VIVATEXTILE is telling its own sophistication and beauty. This polyester lace fabric has a thick, woven texture that forms intricate patterns.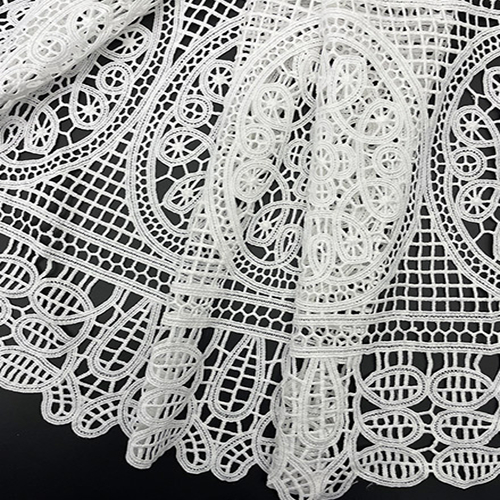 It is slightly thicker than other fabrics, making it a great choice for spring and summer garments such as sundresses, skirts, and tanks. The scalloped edges make it ideal for decorative hems and necklines.
3. 3D Embroidery Fabric:
3D embroidery is a technique that combines chemical embroidery with ground fabric embroidery. This results in a multiplicate structure with a dynamic visual effect.
Since the chemical embroidery parts need to be sewn by hand, it is both labor-intensive and time-consuming. This technique is mostly used in high-end customized dresses.
Look at the joyful flowers in the floral mesh embroidery: flowers bloom on black nylon mesh to create a 3D effect. The movable drape is perfect for A-line floor-length pieces, making it a versatile option for occasional events or important occasions.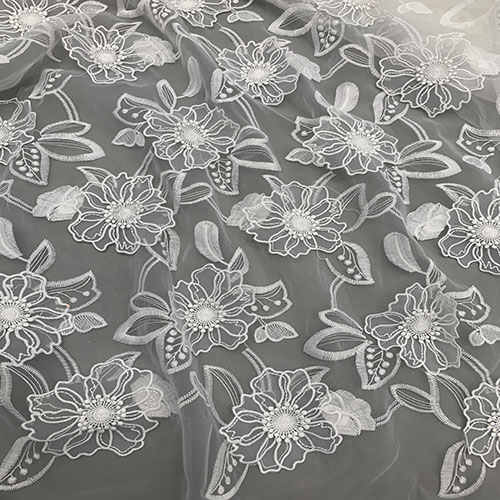 CONCLUSION: VIVATEXTILE Combines Inspiration And Embroidered Fabric Well
Some people say that the fashion circle is a "circle". Because any fashion is changed in reincarnation. But as a basic fabric, embroidered fabrics can always provide a source of inspiration.
So you can paint as much as you want, VIVATEXTILE can help you print your inspiration on embroidered fabric. VIVATEXTILE has been trying to do better to combine inspiration and embroidered fabric well.