Wonderful Uses Of Embroidered Lace Trim
What Is Meant By An Embroidered Lace Trim?
Similar to tape, embroidered lace trim comes in various widths under 60CM. It can be divided into groups according to different embroidery techniques: guipure lace trim, embroidered eyelet lace trim, embroidered mesh trim, sequin trim, sequin beaded trim, corded lace trim, 3D and hand-made lace trim, etc.
Thanks to the advanced embroidery techniques. The embroidered lace trim is displayed in various forms like symmetrical displayed design, single scalloped trim, or double scalloped trim. They are very convenient in use and frequently used for ornamental purposes as a unique shoulder strap, a stylish waistband, a divine central back seam for pleasant dresses and gowns and more!
What Is Lace Trim?
Openwork fabrics like lace trim are used as garment accessories for delicate adornment.
It is long and slender, like lace, but originates in a wide range of width, often between 5-30cm.
Some lace trimmings have translucent tulle backgrounds, while others have scalloped detailed edges.
Types Of Embroidered Lace Trim:
Thickly woven, guipure lace trim is unique for its strictly-woven designs and its heavier, more sophisticated construction. Instead of having a mesh or netting, it is connected by interlaced strands.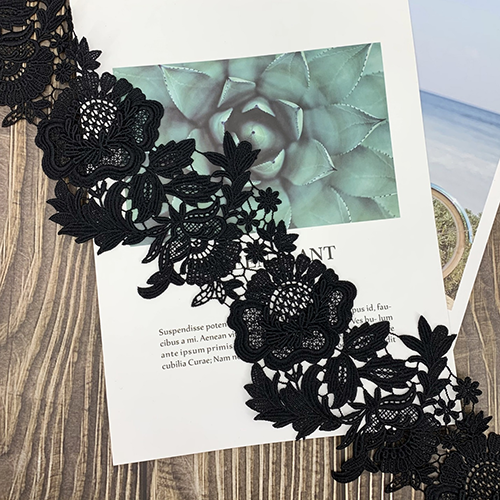 Embroidered Eyelet Lace Trim
Mostly used cotton voile as ground fabric, adorned with beautifully detailed embroidery and clean-cut holes and finished with scalloped edges, cotton embroidered eyelet lace is widely used in the garment. Add to Peter Pan or Shawl collars for a delicate finish.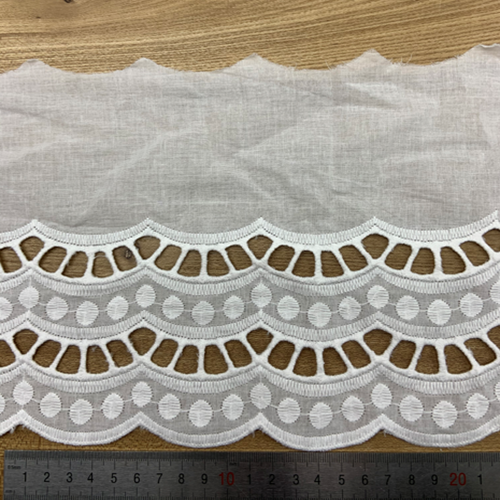 A sheer netting fabric is establishing the groundwork for this kind of embroidered trim unleashing a sense of relaxation and elegance with beautiful designs delicately woven atop.
Light in weight, soft in hand feeling, and full of romance, it is widely used in wedding dresses.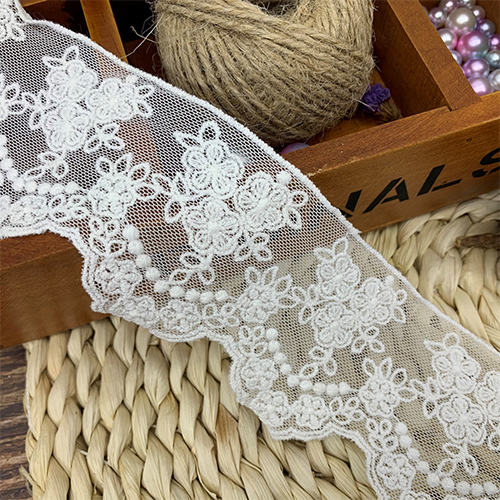 A flower design or a bouquet motif is superimposed over corded trimmings using a complementary or contrasting soutache cord.
The marvelously raised patterns on corded lace trims are renowned for giving the dress a surfaced appearance.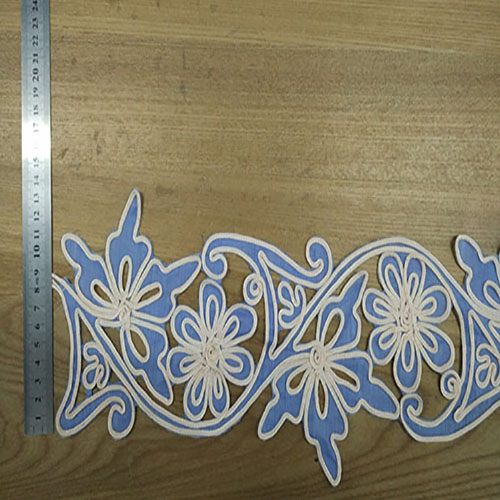 Glamour is at your fingertips with sequin beaded trim.
It is undoubtedly a great thing.
Crystallized with gorgeous sequins and beads in the shape of different floral, leaves, or geometric designs, this intricately detailed and sparkling trim is perfect for costuming, dance outfits, or formal wear.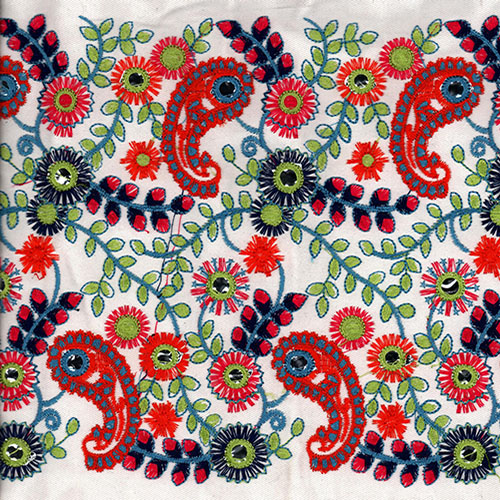 3d And Hand-made Embroidered Trim
This kind of embroidered trim is made by hand.
The embroidery design can be sophisticated and dynamic without the technical limit of the embroidery machine.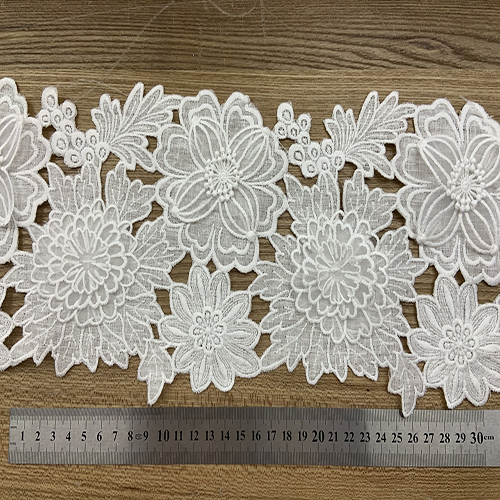 Why Embroidered Lace Trim Is The Best?
Embroidered lace trim adds the perfect finishing touch to many different types of clothing.
Delicate in design with plenty of delightful texture, it is one of the most popular ways to add style and delicate finishing to an outfit.
Elegance touch:
The Lace trim is an excellent way to add a touch of elegance to your wedding gown.
Sewing this embroidered lace trim fabric is easier than you think.
Enhance your personality:
It is also a great way to personalize your bridal accessories and create a unique look.
Lace trim is one of the most popular ways to add beauty to your wedding dress.
Lace trim is a great finishing touch whether you're dressing up for an elegant occasion or a casual day out.
Embroidered lace trim is the perfect way to add more style to your dress without spending too much time or money.
Embroidered lace trim is the ideal finishing touch for many different types and looks.
It is washable, quick to dry, and easy to color. Since the fabric is washable, embroidered objects can be hand-washed or machine-washed on a gentle cycle in accordance with the care label directions.
Due to its unique qualities, this material may be used to produce high-quality apparel for fashion fans.
It gives the cloth a very distinct look and feels.
It is both attractive to look at and easy to make, plus it is durable.
The Many Uses Of Embroidered Lace Trim:
There are many uses of embroidered lace trim in daily life given below:
This kind of clothing may be used to create crafts and decorate homes.
These lace trims are used in bridal dresses,
The lace Trim is used in curtains,
They can use bouquets to enhance their beauty.
This lace trim is used in headbands,
They can be used in Christmas tree ornaments, among other things.
This lace trim is a lovely touch to your holiday or unique occasion decorations.
They can be used in wedding decorations, hair bows, and bag embellishments.
It's perfect for adding a little something special to your sewing projects. Embroidery is one of the most popular forms of needlework.
Embroidered Lacing is a fun and easy way to decorate clothing. Embroidered Laced Fabric is a great way to create unique pieces of clothing.
Embroidery is one of the most versatile ways to decorate clothes.
Embroidered lace trims add an elegant touch to your clothing. From wedding dresses to party dresses, these eye-catching embellishments are perfect for adding style to your outfits.
Lace Trim Fabric features an intricate design on both sides. It is perfect for making beautiful clothing or accessories.
They are usually made from polyester blended materials. It is a good quality material used.
Conclusion:
Embroidered Lace Trim Fabric is a high-quality product made from 100% polyester. It has a soft touch and a beautiful look.
A perfect choice for making dresses, skirts, or other clothing items. This product is durable and easy to use. You can wash it using cold water and hang it dry.
VIVATEXTILE offers you modern, stylish, ideal, and up-to-date embroidered lace trims to satisfy our customers' needs and is worth your trust!
Our priority is to meet the need of our customers. We offer a large variety of lace trim in high quality and in competitive prices. It is worthwhile to use every occasion.
We wish to serve our customers for their whole life. Get alerts on new fabric collections by liking our website. Please do not hesitate to contact us.