What Season Is Black Geometric Eyelet Suitable For?
What is Geometric Eyelet Fabric?
Geometric Eyelet fabric has a geometric eyelet pattern on the ground fabric. The ground fabric mostly is cotton voile, and it can be replaced by poplin, chiffon or rayon fabrics according to the requirement of customs. Geometric embroidery is simple and delicate, while eyelet punching is added to the embroidery process creating a textured look that adds visual interest to any garment or home decor project. It can be used to create unique-looking garments such as tops, dresses, skirts, or even jackets. You can also use it for home decor projects like curtains, tablecloths, bedspreads, etc. A versatile fabric with endless possibilities.
This fabric, both in its patterned shape and in its color, is suitable for a wide variety of occasions: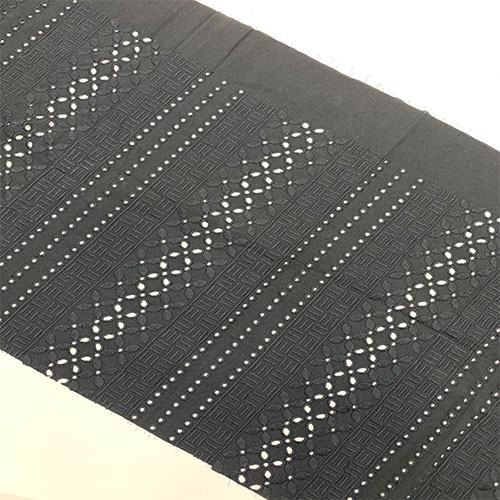 The Geometric Eyelet:
Usually, the eyelet of this fabric is a geometric shape such as a circle or a square. It can also be a triangle or a diamond or even a combination of geometric, floral and strips. The geometric pattern can come in different sizes, including large ones and small ones. They can also be decorated with various types of stitching or embroidery work. The patterns are usually very simple and minimalistic in nature, making them perfect for everyday wear.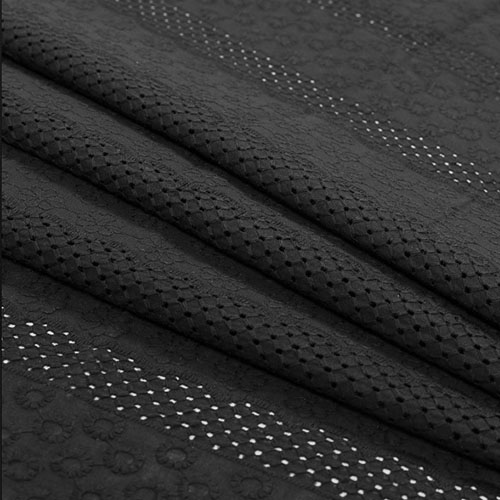 The Color Black:
Black has been used for centuries as an expression of power and elegance. It was worn by kings and queens, presidents, and CEOs because it symbolized wealth, status, and power. Today, black is still associated with these things but it also has become popular due to its versatility and ability to go with everything - from formal wear to casual attire.
At this time, many people will be thinking: what season is the black geometric eyelet suitable for?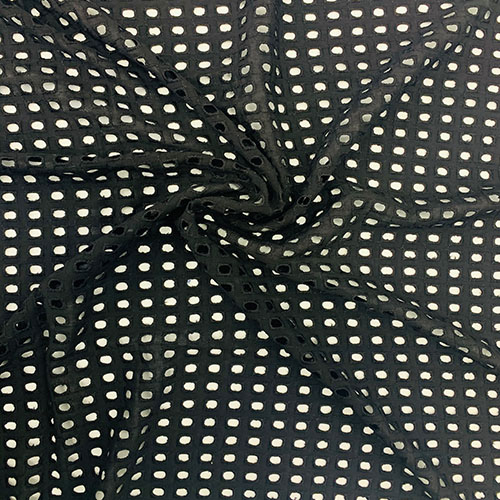 What Season Is Black Geometric Eyelet Suitable For?
Before you can figure out what season is the black geometric eyelet suitable for, you need to understand the climatic characteristics of each season.
Spring: Lighter Clothes
Spring is between March and May and is characterized by warm temperatures and rain. In this season, people usually no longer need to wear heavy big padded jackets, but some lighter clothes. For example, long-sleeved skirts, etc.
Summer: Cool Clothes
The summer months are from June to August and are characterized by hot temperatures and high humidity. People use light fabrics such as cotton or linen during this time because they breathe well and allow for air circulation which keeps them cool all day long. They also prefer light colors such as white or pastel shades that reflect more light to help keep them cool during the day.
Fall: Warm-Colors Clothes
In autumn, leaves in many places begin to turn yellow and fall. People are beginning to feel the coolness of autumn. During this season, many people like to wear clothes in warm colors because it makes them look warm and harmonious.
Winter: Light-Colors Clothes
Winter is undoubtedly the coldest of the four seasons. During this season, there will be snow in many places and there will be much less sunshine. Therefore, people prefer light-colored or warm-colored clothing. However, there are also some people who use black with a nice warm style.
Therefore, according to the features of the season and the characteristics of the fabric itself, Black Geometric Eyelet fabric can be widely in spring, summer and winter. Because in spring and summer, people need breathable fabrics. And the eyelet design of Black Geometric Eyelet fabric can make clothes more breathable and comfortable. At the same time, black will become the chicest embellishment in winter garments to creating a surprising visual effect.
Black Geometric Eyelet Makes You Look Slimmer:
The reason why Black Geometric Eyelet makes you look thinner is that it is a fabric that is made up of squares and circles. When you wear this fabric, it will give the illusion that your body is smaller than it really is.
Black Geometric Eyelet fabric is a great option for those who want to look slimmer. The color of this fabric is black, which helps to make people look thinner by creating shadows on the body. The material is also lightweight, which makes it easy to wear in any season.
Black Geometric Eyelet fabric can be used as an overlay over solid colors or prints that would not match up with other colors. It also works well with other black fabrics, like silk or satin. This material can be paired with jeans or pants for a casual look or dressed up with a button-down shirt for a more formal style.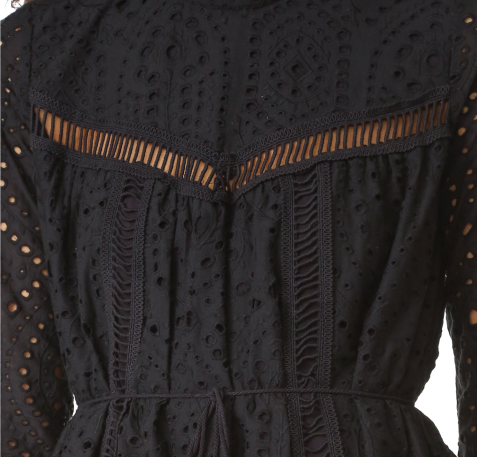 The versatile Black: An Inspiration For Many Designers
Black is a versatile color, it can not only be serious and solemn but also look very clean. It is a neutral color that can be combined with many other colors, so it can be used in many different design styles.
Black geometric eyelet fabric is one of the most popular types of fabrics for designers because it has many advantages. First of all, this kind of fabric is very suitable for women's dresses and skirts, because it has a high degree of transparency and can show your body's curves. In addition, this fabric looks very luxurious and refined with its black color, which makes you look more beautiful than ever before.
Black geometric eyelet fabric has been loved by many designers because this type of fabric can help them create their own unique styles. They can easily combine their own ideas with this kind of cloth to create an interesting appearance that will attract people's attention instantly when they see it on the street.
Conclusion: Black Is Never Out Of Time
Recently London held a fashion week where the dress code is black. At Fashion Week, people wore black leather jackets and black lace skirts. There are also a lot of people wearing clothes made from some really wonderful-looking fabrics, like the Black Geometric Eyelet Fabric we're talking about above.
So we can see: black never goes out of style. And those Black geometric eyelet fabrics are the perfect base to bring out the fashion! At VIVATEXTILE, you can get premium-quality Black geometric cotton eyelet fabric beyond your imagination, they can make your designs more eye-catching!