3D Embroidery Fabric – The Power Of Fashion Technology
What is 3D Embroidery Fabric?
3D embroidery is a perfect combination of 2 kinds of embroidery fabric. The 3D floral part can be embroidered at the same time as the ground fabric or sewn by hand after the ground fabric is finished. Both techniques enable 3D floral embroidery fabric with rich content and diverse forms presenting structures and dynamic visual effects.
Introduction to 3D Embroidery Fabric:
3D embroidery fabric is a surface decoration technology. It is an ingenious combination of different embroidery techniques which can be used to decorate the surface of various fabrics.
There are 2 ways of making this fabric:
3D floral part is embroidered at the same time with the ground fabric when doing the CAD drawing so that 3D is atop of the ground fabric when the fabric is finished.
3D floral part is embroidered separately when doing the CAD drawing. The ground fabric and the 3D floral part need to be embroidered separately on the embroidery machine, after these two fabric is finished , the 3D flowers need to be sewn by hand .The whole process of making this type of fabric is complicated and time-consuming, and it requires a high level of technical knowledge and skill in both these two techniques.
The main characteristics of 3D embroidery fabrics include:
1)the texture is 3-dimensional
2)The pattern is vivid with strong visual impact;
3)The color can be multi-colored
4)The pattern is dynamic
5)It has a special sense of depth, which can be seen from different angles.
Why is 3D Embroidery Fabric So Popular?
The 3D embroidery fabric is one of the most popular fabrics in the fashion industry. Both clothing manufacturers and sewing enthusiasts widely use it. The reason for its popularity is that it has a very unique appearance. This makes the 3D embroidery fabric an excellent choice for use in many different projects.
The 3D embroidery fabric also comes in many different colours so you can select one that matches your personal preferences perfectly. If you want to add some extra flair to your garment then you should consider purchasing this type of material because it will give you plenty of options when it comes to design choices.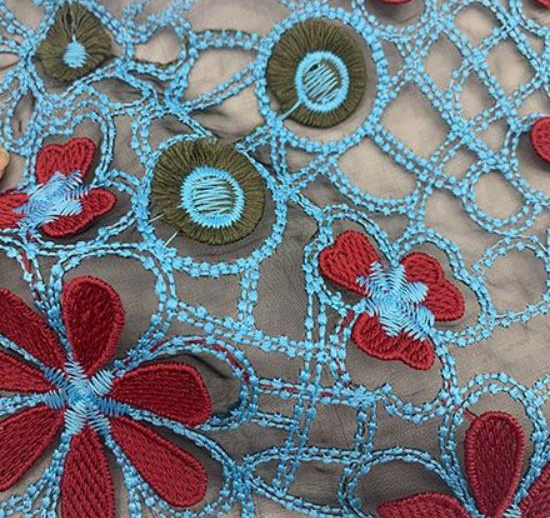 The biggest advantage of using this type of fabric is that it allows people to express themselves through their clothing choices without having to worry about what others may think about them since they can wear whatever they want without getting judged by others who may not like their style choices at all!
For instance, EMB05 Red/Blue Floral Embroidery on Mesh from Vivatextile delivers the perfect art which is the combination of 3D red flowers, dark green buds and lt. blue dotted geometric embroidery on ground fabric.
One of the finest examples of floral embroidered fabric is Vivatextile's EMB30 Ivory White 3D Floral Embroidered Mesh. It accelerates your aesthetics by creating a soft texture pattern.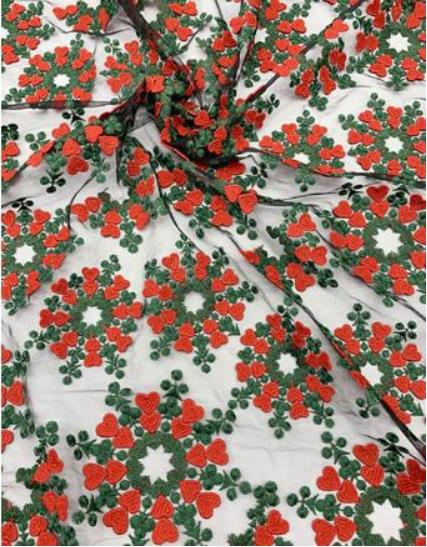 This product is an integrated product of water-soluble embroidery and flat embroidery.
The Advantages of 3D Embroidery Fabric :
3D Embroidery Fabric is the most advanced embroidery fabric, which is can be made from high-quality cotton, polyester, nylon or metallic yarns. The 3D Embroidery Fabric can be available in different colors, prints and sizes. It is ideal fabric for making dresses, shirts, pants and many other items of clothing. The Advantages of 3D Embroidery Fabric :
Vivid-- as three-dimension as it is real with strong visual impact which make embroidery more beautiful and artistic. The clothes made by 3D embroidery fabric on the body have a gorgeous and unique artistic style.
Dynamic--Diversified texture—the integration of different kinds of embroidery techniques reveals dynamic visual effect, both 3-dimension embroidery and flat embroidery, which brings different visual experience to people.
Good hand-feeling—Diversified texture of the 3D embroidery fabric also brings extra ordinary hand touch, or soft or tough like flowers blooming on the fabrics bringing enjoyment and surprise to our life.
Fluid drape—complicated embroidery details makes the fabric with fluid drape, which is perfect fabrics for evening dresses, gowns and couture looks.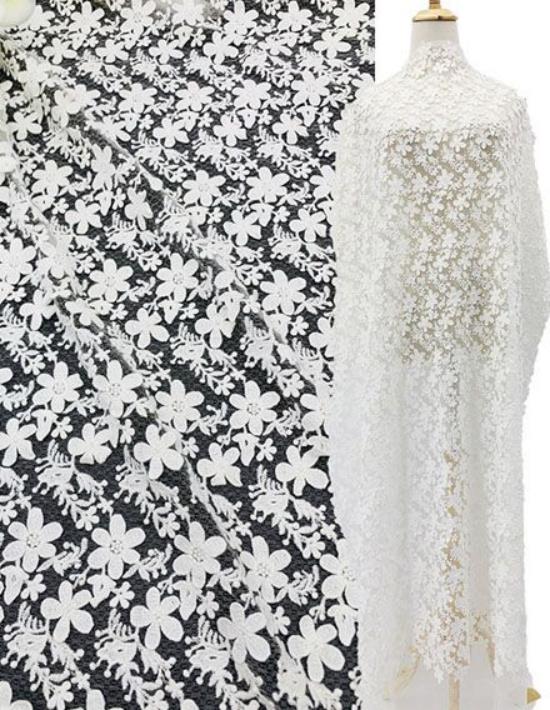 Another finest examples of floral embroidered fabric is Vivatextiles EMB30 Ivory White 3D Floral Embroidered Mesh. It accelerates your aesthetics by creating a soft texture pattern.
Viva textile have hundreds of 3D embroidery fabrics which are popular in fashion field.
VIVATEXTILE products have been exported to Europe, North America and South America etc and are well recognized by both fashion designers and wholesales allover the world for our good quality and competitive price.
We have extensive experience in designing and producing such products. Our company has a large production capacity under strict quality control system to ensure quality bulk production output and timely delivery.
If you are looking for ways to promote your company or brand, please visit our website VIVATEXTILE or contact us for more information.
Conclusion:
Vivatextile is a professional embroidery fabric manufacturer in Hangzhou providing the widest range of embroidered fabric. Our products are made in China, and we have our own factory. We can offer you the best prices because we have a very large production capacity.
Our skilled personels enable to make your embroidery more beautiful and unique. With the help of the advanced computerized embroidery machines, They use the rich working experience in this field to produce the most beautiful embroidery fabrics possible, even the most complicated designs with ease. There is no limit to what we can do for your business or personal needs.
Our team of experts will help you find exactly what you need at an affordable price. If you want something special for you,we can make flexible development for you as R&D is our most advantage! We have 12+ experience in this industry working closely with well-known foreign brands, we are very experienced in hitting the customers' requests and working out the right products quickly and accurately.
Welcome to contact us whenever you have any questions!