Embroidery Fabric With Digital Print Is The New Era In Embroidery
Embroidery Digital Print is the latest trend in embroidery with the development of digital print technology. This new technology uses a digital printer to print your customized print design onto embroidered fabric or to do embroidery onto a digital printed fabric and both can appear with multiple structures and surprise on the finished fabric.
It opens up a range of opportunities for designers and businesses alike. You can create custom embroidery and prints with our Vivatextile without the minimum quantity required and the concern of having the same pattern alike with others.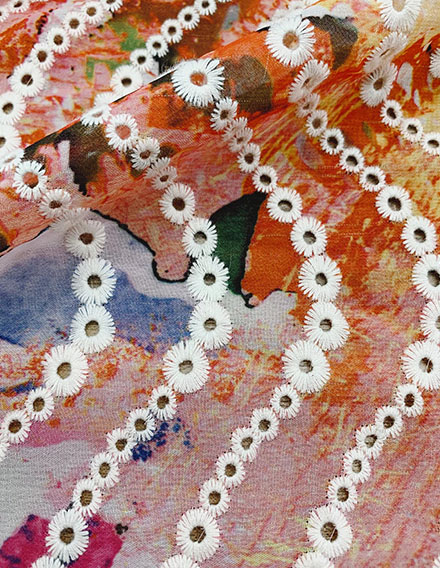 The above product comes with elegant, delicate, feminine designs and embroidered flowers. Very finely like the flower buds stretching to the bottom of the fabric. All of them are extremely vivid, cleverly exalting the elegant and absolute feminine beauty of the wearer.
Features of Embroidery Fabric With Digital Print:
Embroidered fabrics with digital embroidery are the most cost-effective and fastest way to personalize clothing. There is no large MOQ requirement for digital printing. Unlike the normal printing method, it can do flexible sampling in your customized design without any screen charge.
Our process is to do embroidery first and then do digital print on the embroidered fabrics.
The base fabric for digital printing can be varied, it can be cotton eyelet, embroidered mesh or water-soluble embroidery fabric. The application of both digital printing machines and embroidery machines presents you with a delicate combination of vision and wear.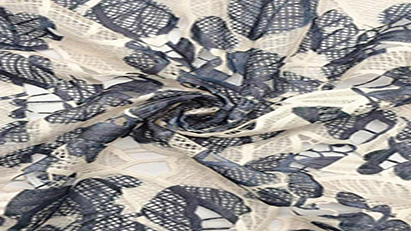 Why Is Embroidery Digital Print So Much Attention?
Embroidery is a technique style that has been around for centuries. People use embroidery to make clothes and other items look more beautiful and appealing. It can be done in any colours or patterns you want, but it is most commonly used for designs that are monochromatic or simple, like the ones on clothing.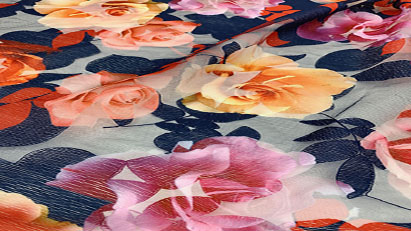 Digital print technology allows colorful print to grow across the embroidered design on the fabric to create an enchanting aesthetic. We can create custom embroidered items with just about any image you want. This is different from traditional embroidery, with delicate visual effects and a near-perfect appearance that complement each other.
When you use digital print on fabric, there is no limit to the number of colours or designs that can be printed on the fabric's surface. You can also have multiple layers printed onto the same piece of cloth, which allows for more complex designs than traditional embroidery can offer.
It also allows for images, because it uses software programs instead of print screens, so there is no limit on the colours of the images.
For example, if you want an image that contains gradients or gradients in different shades of colours or brightness levels, digital printing will do this perfectly.
Where Can We See Embroidery Fabric With Digital Print?
The answer is everywhere. This new technology has been used in many areas of the fashion industry, from fashion accessories to clothing and even car interiors.
In the past few years, embroidery fabric with digital print has become increasingly popular in the world of fashion. It can be seen on all kinds of branded products from dresses to garment accessories and even bags and shoes.
The most important thing is that it can create a sense of luxury and elegance on any object or product. The reason why new fabric has become so popular is that it makes fabrics more attractive, colorful and unique than before.
Embroidery With Digital Print Delivers Perfect Detailing:
As we can see, the advantages of digital printing are vivid colours, a variety of designs, and no MOQ required for mass production.
After digital printing, the embroidered fabrics complement each other in the finished product, presenting multiple structures and surprises. Various elements meet to achieve the romantic, minimalist, elegant or another effect you want.
Vivatextile Has the Following Advantages:
1. Advanced production equipment and technology
Vivatextile have 4 advanced digital printing machines from Japan which is characterized by flexibility, fast speed, more accurate and realistic details.
What's more, we have different types of embroidery machines which can produce embroidered fabric with different techniques. Our professional technicians are good at combining these two processes perfectly to produce embroidered fabric with digital print in varied styles.
2. Wide range of products and flexible sampling
Vivatextile have hundreds of embroidered fabric with digital print designs for your selection. And can do flexible sampling based on customer's requirement.
3. Superior quality and competitive price
We believe that this is one of the main advantages of Vivatextile.
Conclusion:
The decision to buy embroidered fabrics is a big one, and you want to make sure you are making the right choice.
Embroidery is a beautiful way to finish your garment. The embroidered stitch itself has a unique look and feel, and the design made by embroidery will give your piece an enduring fashion touch.
If you are looking for something with a more finished look, then embroidery is right for you. Embroidery can be used on all types of garments, from dresses, and jackets to skirts. It's an elegant way to add detail and embellishments without having to worry about fraying edges or loose threads.
If you're looking for something that will stand out in the crowd, then embroidery fabric with digital printing is what you need! It creates an almost cracked look for additional uniqueness and allows for endless possibilities when it comes to the perfect combination between exquisite embroidery and colourful digital print.
We have devoted ourselves to the textile industry for more than 12 years and are becoming specialized in R & D and bulk production of embroidery fabrics.
From NASS established in 2010, a decentralized trading company dealing with all kinds of textiles, to Vivatextile in 2012, focusing on two types of fabrics - embroidery and digital printing.
If you have any needs with embroidery fabric with digital print, please contact us as soon as possible!