How to make the fringe embroidery fabric in 2022?
I always like fringe embroidery fabric because these embroidered fabrics generate a lot of enthusiasm. Embroidery is an ancient technique that reflects the customs and ways of global culture that varies at every corner but yet you won't see people compromising on the embroidery fabric. Through it, we can understand ideologies, thoughts, and identities and express ourselves.
Why do people like fringe embroidery?
Made by hand or machine, embroidery creates ornamental designs on fabrics, using needles and threads, bringing endless possibilities for creation. It is a great choice for those who want to customize a fringe embroidery fabric, leaving it authentic.
Embroidered fringes complement the look of the embroidered ground fabric with a handmade look and creative touch, perfect to be used on any occasion: from black tie events to everyday life. Shall we know a little more about it?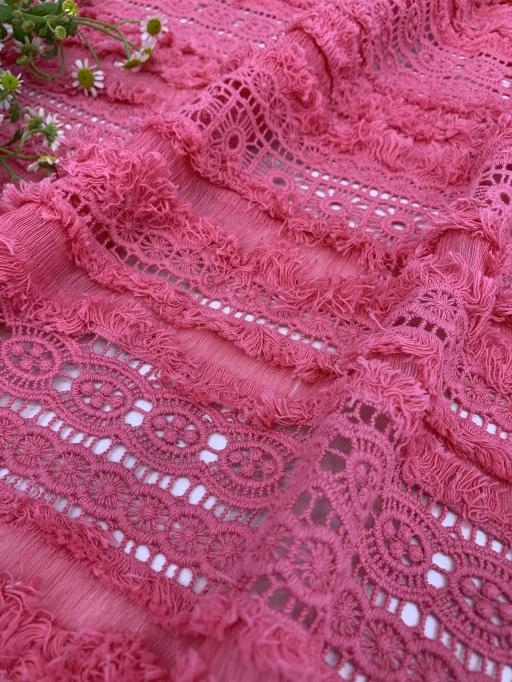 The Story of Fringe Embroidery Fabric Timeless Craft
There are 2 words to express this element in the history: Fringes and Tassels
It is not known for sure where the fringe and tassel embroidery technique originated. The first record of something similar dates back to prehistory when primitive men 'sewed' skins with a type of thread. At that time it had a practical and utilitarian character, without the function of modern decorative techniques.
The first embroidered pieces with a decorative function were found in Ancient Egypt. The clothes formed by hanging a piece of rectangular cloth on the body are extremely simple, however, fringes and tassels can still be found at the four corners of the rectangular fabric.
In the Renaissance of the 15th-16th Century, fringes and tassels became the symbol of noble status. Tassels in the shape of spikes appear more often in household clothes, like the side and bottom of a curtain, and the edge of a bed curtain.
Then they were found in China with fringe and tassel elements widely used in different parts of clothing, like on sleeve cuff, neckline and hem reflecting the style and charm of women clothing in different periods
Today, tassel and fringe elements are still popular with designers all over the world. With various changes on materials and styles, we can always see fringe embroidery fabrics on the show of many international brands from time to time. It can not only show the soft beauty of clothing, but also give the clothing a symbol of flexible, romantic and graceful personality, bringing people infinite surprise and beautiful enjoyment
Why fringe embroidery?
Fringes are necessary element of fashion for the aesthetic feeling formed by the rhythm caused by the levels of the fringes. And what is more, Fringes can add fluid drape to light and sheer fabric to shape clothes. The more secrets of fringe embroidery fabric we know, the more beauty we can create.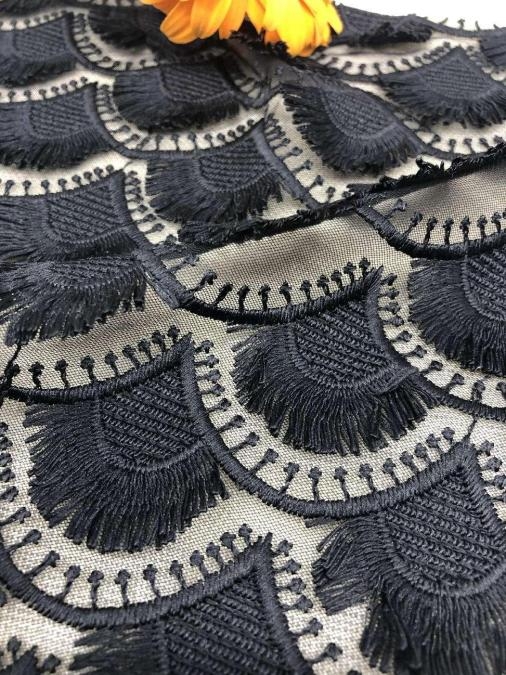 SQ34B Red Wine Fringe Sequin Fabric is one of the most dominant fabrics from Vivatextile which is highly appreciated globally. It delivers a classic look with dazzling fringe patterns.
Thanks to the rapid development of computerized embroidroidery machines, fringe element is widely used on different embroidered fabric in various forms and can do mass production. It can appear on both scalloped edges to form an elegant and dynamic hem. What is more, it can appear as 3D texture atop of the ground fabric to form a sophisticated structure, embroideries become surprisingly alive. The material can be stripes of polyester, cotton, embroidery on ground fabric or with sequins and beads. With a full drape, it is ideal fabric to create elegant evening wear and bridal gowns with a bold pattern , or dream up summer dresses and blouses.
How to make the fringe embroidery fabric?
Fringe embroidery fabric is actually the perfect combination of ground fabric embroidery and water-soluble embroidery. The ground fabric can be chemical embroidery, mesh embroidery, embroidery on different base fabric, or sequin or bead embroidery. This embroidery needs very professional computer drawing technics and skilled workers handle promptly in embroidery production. The whole process goes as below 4 steps:
Computer drawing
When making the computer drawing, the technician must ensure the quality of embroidery strictly connected between plain embroidery and fringe.
After the Computer drawing is finished and the ground fabric is ready, 1-2 mts of sampling fabric is produced on the sampling machine to make sure all the details is ok, then we can start bulk production. While doing embroidery, the workers may need to stop the machine to do some manual cutting work according to the needs.
Bulk finishing and dyeing
The ground fabric with water-soluble nonwovens will be melt by hot water during bulk finishing with fringes left behind. This embroidered fabric can also dye to match according to customer's requirements.
As plenty of manual cutting work involved in the whole process of the production, its price will be relatively higher than plain embroidery.
3D embroidery fabric with fringes
Dynamic fringes are very good in combination with ordinary or decorative embroidery techniques plain embroidery, sequin embroidery, beading embroidery, mesh embroidery for example), as they allow you to highlight one element of the pattern, focusing the viewer's attention on it.
You can perform such embroidery with any materials that is decorative and with movable drape, the choice of the material again must be complementary to that of plain embroidery in style and in quality.
The main features of embroidery in the technique of Fringe
Fringe embroidery is one kind of embroidery technique which is very interesting and has strict requirement on technology. It requires perfect combination of plain embroidery on ground fabric and chemical embroidery. When the fringe embroidered atop of the ground fabric, it is a kind of 3D embroidery fabric. And when the fringe embroidered on the scalloped edges of both selvages, then it becomes border embroidery fabric. It appears in various forms and widely used In many parts of clothing and hometextile..
Fringe Embroidery Fabric Differences
Fringe embroidery fabrics are more and more widely used in clothing, and are more and more considered into clothing design by Fashion designers. After thousands of years of historical and cultural edification and transformation and accompanied with the mass production of computerized embroidery machines, today's designers bring them out of old by applying the fringe elements widely into the garment fabrics.
1.Static curve aesthetic feeling presented by fringe embroidery fabric
Fringe embroidery fabric is a great way to show body curves. With delicate and fluffy fringes decorating on the well-tailored fashion dresses, it will not only give people a feeling of exaggeration, but can better highlight the body curve. It can achieve more unexpected results than simply using the methods of tightening waist.
2. The dynamic rhythm beauty presented by fringe embroidery fabric
The best expression of the beauty of fringe embroidery is walking on the T-stage. Embroidered fringes are regularly arranged in the garment cutting. By adding other accessories to embellish the harmonious use, they follow the steps of the model, driven by the melody of the music on the stage, its swaying feeling formed will radiate the charm of women to the extreme.
3.The beauty of internal and external decoration presented by fringe embroidery fabric
Embroidered fringes can show different styles of clothing in the different positions. According to different body characteristics, embroidered fringes are often applied to the bodice, skirt, hem and sleeve cuff in order to make up for body defects or highlight body curve. It not only modify the body, but also highlight the temperament and show a more charming, enchanting and energetic side of women.
How to care for fringe embroidery fabric?

Gently hand wash this fabric, and professional dry clean is preferred
Wash fringe embroidery fabric gently by hand in the water with the temperature under 40℃ and do not bleach them.
Squeeze out excess water by hand, do not tumble dry
Dry flat or iron up to 110°C to keep the fabric in shape
Where to buy fringe embroidery fabric?
If you are looking for fringe embroidery fabric, Vivatextile has hundreds of fringe embroidery fabric designs ready for your selection. We can satisfy your every need whatever you want to buy by yardage or in bulk buy. And what is more, we are strong in R&D, can develop customized designs for customers to make their clothing outstand with other brands. With professional staffs under strict quality control, Vivatextile should be your ideal supplier that you can always find your right fringe embroidery fabrics from.