Significance of chemical embroidery fabric
What is chemical embroidery fabric?
Chemical embroidery fabric is a new type of material that combines the advantages of both traditional and modern embroidery technique. Takes water-soluble nonwovens as the ground fabric embroidered by the computer embroidery machine. The ground fabric is melted by hot water afterwards, with three-dimensional lace left behind. It looks very compact and elegant with soft touch, full fabric drape and gloss. The chemical embroidery fabric presents an exquisite full hollow-carved flower patterns appealing to every lady. It is a combination of two different processes:
Embroidery
Soluble finishing and setting
It takes nonwoven fabrics as the base material and embroiders beautiful designs on it by computerized embroidery machine. And then the embroidered non-woven fabrics can be turned into elegant embroidered fabric after soluble finishing and setting treatment. It is trendy among fashion designers and textile manufacturers because if it's unique artistic appearance and high quality. These fabric are widely used in medium and top-grade fashionable women's wear, Wedding dress, Evening dress, Fashion dress, even Home textile.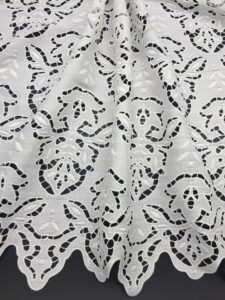 Also known as:
It's also known as "Guipure Lace Fabric" or "Crochet Lace Fabric"
The benefits of chemical embroidery fabric:
There are many benefits of using chemical embroidery fabric, but some significant advantages are as follows in the given below:
With beautiful embroidery design and textural lace features, chemical embroidery is very romantic and high-graded to create elegant evening wear, occasional wears or everyday dresses. As the nature of chemical embroidery, its peek-a-boo effects adds more of the elegance and romance.
Chemical embroidery fabric is tightly woven so that it has very good fabric drape, which makes it ideal fabric for dresses, tops and skirts. It is soft to touch, beautiful to look at, and easy to sew.
Enhance your personality:
It is also a great way to personalize your wardrobe and a more efficient way to add style and class to your clothes. It is trendy among ladies because of its beautiful appearance. This type of fabric is not only used as fashion garment, but also as home decoration materials.
Soft feel and comfortable:
Chemical embroidery provides a three-dimensional look, a delicate touch, superb fabric drape, and a high gloss. It is very soft and comfortable to wear. Chemical embroidery causes a peek-a-boo effect, thus a lining is necessary if additional structure or modesty are desired.
Because the material is washable, embroidered objects can be hand washed or professional dye cleaning. With its unique properties, this material can be used to produce high-quality garments for fashion lovers.
Good shrinkage and High Colorfastness
In addition to being comfortable, chemical embroidery fabric also offers excellent performance characteristics such as high colorfastness even good moisture adsorption.
Chemical Embroidery is more reliable:
This Embroidery Fabric can be made up of many kinds of yarns, such as 100%polyester yarn , 100%cotton yarn and metallic yarns
Chemical embroidery is tight woven so that it is durable with a full drape and a high-quality finish.
The chemical embroidery products can be fabrics, appliques, collars and trims, it is flexible to do embroidery based on our specific requirements.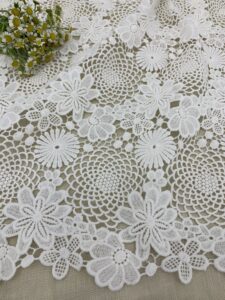 Chemical embroidery is more vibrant:
This embroidery fabric provides an exciting alternative to traditional textiles. They are made using advanced techniques that give them incredible vibrancy. It has latest fashionable designs and exquisite designs to be used by fashion garments. This nature allows a great variety of designs and textures and if perfect for adding unique details to clothing and accessories. With its ability to create beautiful patterns on fabric, chemical embroidery has quickly gained popularity among consumers. It allows them to be used in ways that were never possible before.
Chemical embroidery is more cost-effective:
Compared with hand embroidery, customized chemical embroidery is relatively inexpensive and people-friendly. With the chemical embroidery technique, you can quickly turn ordinary fabric into something extraordinary. Chemical embroidery is one of the most affordable ways to add embroidered designs to clothing and other items. In other words, it is a cost-effective way to customize your garments.
How to care for chemical embroidery fabric?
When wearing clothing made by chemical embroidery fabric, it would be good that you avoid the vinegar or ammonia getting on clothes and ruining the fabric permanently.
You should avoid rubbing the fabric against the place where the surface is rough.   
You can hand wash this material, but professional dry clean is recommended.
Wash chemical embroidery fabric gently by hand in the water with the temperature under 40℃ and do not bleach them.
Use mild detergent and rinse thoroughly. Squeeze out excess water.
Dry flat using a low heat setting and always iron dry.
Store away from sunlight and heat.
Conclusion:
With this technology, we can create unique 3D effects on chemical fabrics, which will bring people more exciting and attractive life experiences. All our products come with free shipping, fast delivery time, and excellent customer service. VIVATEXTILE products have been exported to many countries and regions. We hope to establish long-term cooperation relationships with more clients around the world. We have rich experience in designing and producing this kind of product. Our company has a strict quality control system. Welcome to visit our website VIVATEXTILE or contact us for more information. Explore our collection of Chemical Embroidery Fabric today. So there's no need to search any farther if you're seeking for a means to advertise your company or brand. You may use our extensive selection of choices to make the ideal item for your requirements. If you would like to purchase this product, just click on the link and follow our instructions for more details about it. Get ready to explore the world of embroidery. Looking forward to hearing from you soon.