The Embroidered Eyelet Fabric Will Rock Your Summer
What is Eyelet Fabric?
Eyelet fabric is a fashionable and extremely textured fabric formed by embroidered holes in the ground fabric with tools of both the punching knives and the needles installed on the embroidery machine and then performing the eyelet construction on the fabric.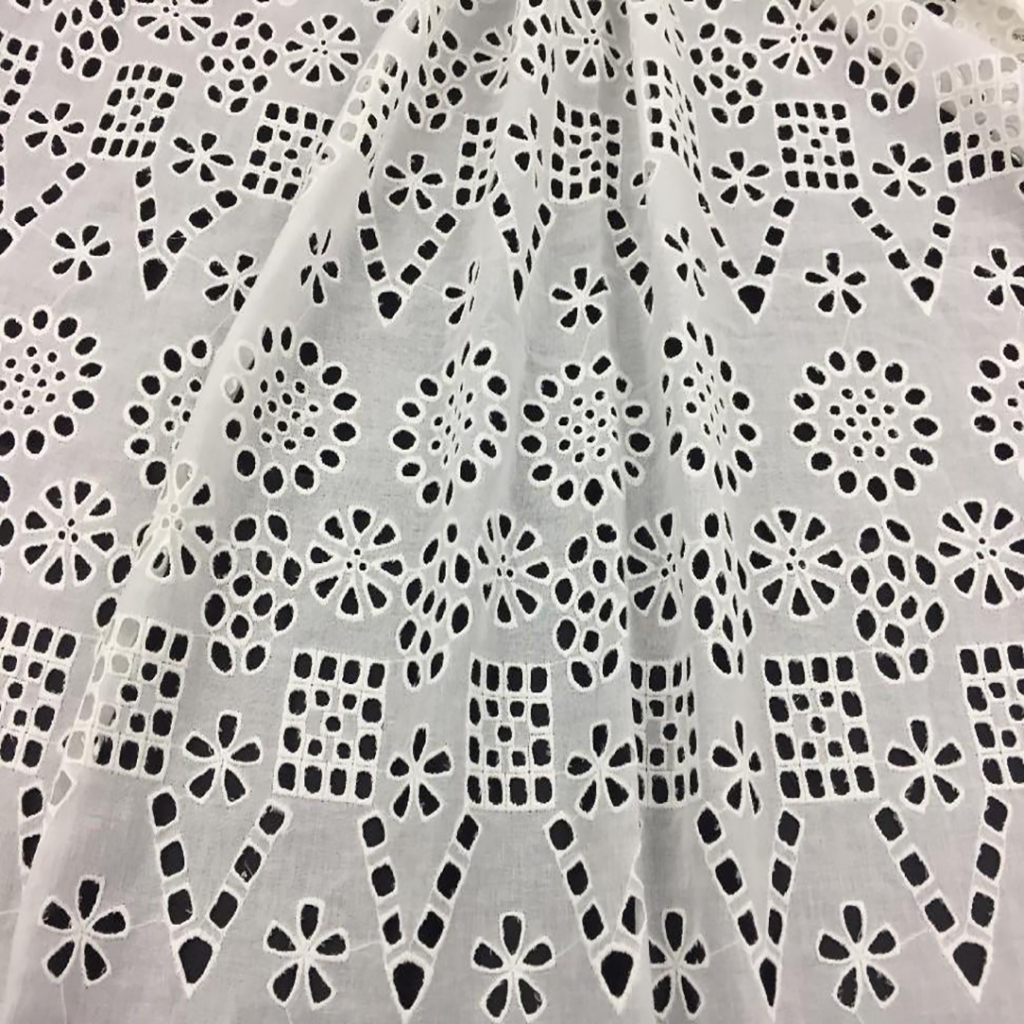 Its features:
Its biggest feature is that in the process of embroidery. Its embroidery technique is that the ground fabric is to be carved into holes and then the holes are neatly embroidered at the same time to create an enticingly textural pattern of embroidered eyelets of varying sizes and designs. Involved with plain embroidery, the eyelet fabric will reveal more details, full of interest, making the embroidery look elegant, exquisite and unique.
Production Process and Its Ground Fabrics Required:
There are 2 kinds of computerized embroidery machines that can make embroidered eyelet fabrics, one is a Saurer embroidery machine and another is a flat embroidery machine.
Generally, the Saurer embroidery machine has an excellent effect of regular, smooth and neat eyelets without fraying thread ends in the holes. Anyhow the production of the Saurer embroidery machine needs a high MOQ of more than 1000 meters.
Although the eyelet effect of a flat embroidery machine may not be as good as that of the Saurer embroidery machine, it can do small MOQ, and can embroidery products in different widths based on customers' requirements, it can embroidery fabrics in full width, collars and appliques. Its operation is more flexible.
All the fabrics with good density can be used as base fabrics for embroidered eyelet embroidery. Commonly -used base fabrics include cotton voile, cotton poplin, polyester chiffon, nylon organza, knitted fabrics and even denim.
Cotton embroidery fabric is easy to keep warm, hygroscopic and breathable. Supple and soft in hand, its modestly fluid drape makes it a wonderful choice for day dresses, full skirts, decorative blouses and more. The detailed eyelet patterns on the fabric make it fashionable and distinctive.
The regularly arranged eyelet patterns are small and delicate, while the floral and stripe designs have a vintage romantic atmosphere. The embroidered eyelet fabrics not only can be used as clothing material but also can be used for bags, home decoration or other applications.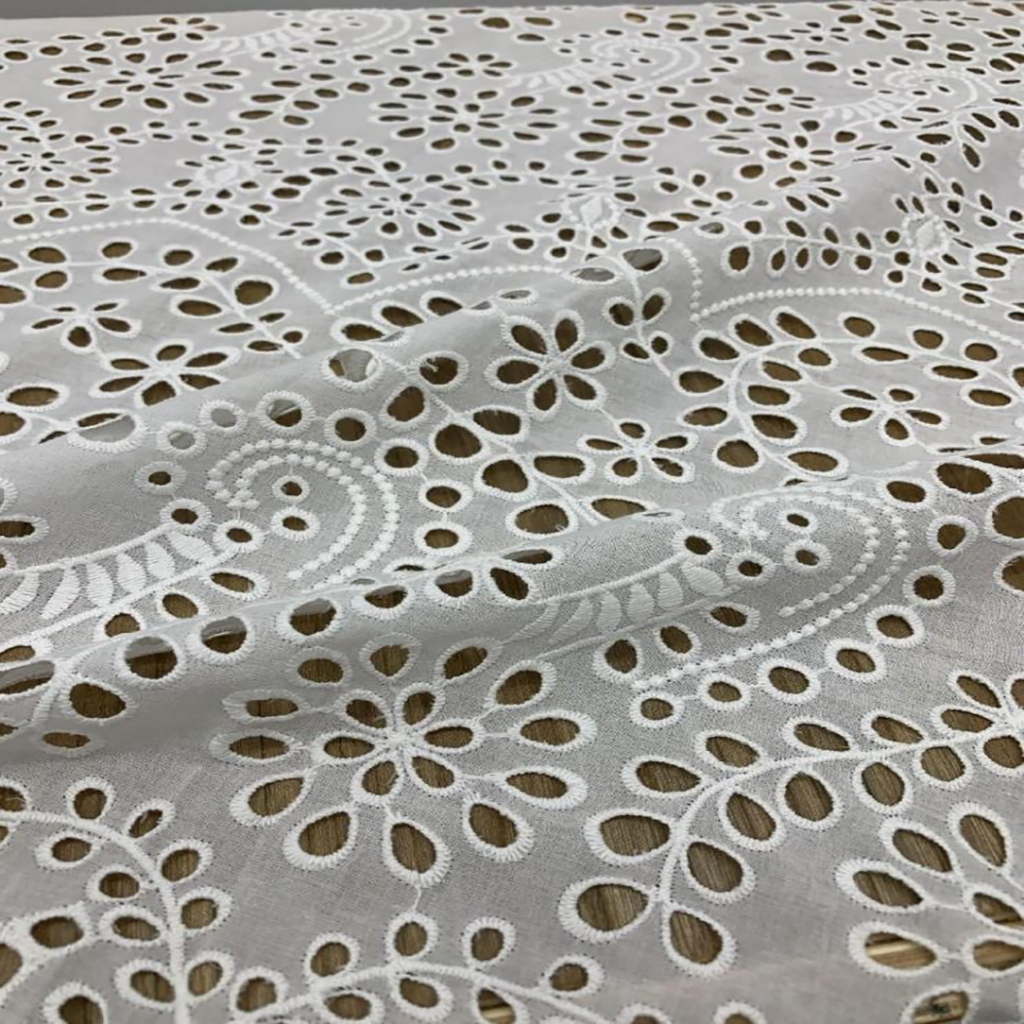 Why is Eyelet Fabric So Popular?
The embroidered eyelet fabric is a type of fabric that is made of cotton, silk or polyester. It has embroidered holes in it which allow air to pass through and make it breathable.
There are many reasons why eyelet fabric is popular with people around the globe. Some of these reasons include:
Eyelet fabrics are easy to handle: The eyelet fabric is easy to handle because they do not wrinkle easily and they can be washed by hand or dye-clean without having any issues. They can also be ironed without any problems or difficulties. This makes them very popular among people who want their clothes to look good at all times. The ease of handling allows you to use them for many different purposes without any concern at all.
Eyelet fabrics are comfortable: Fairly sheer, lightweight, providing an easy drape, it is great to wear during warmer climates, and perfect for the spring and summer seasons. Turn the eyelet fabrics into cool dresses, charming skirts and striking pants, you will feel breathable and comfortable in these applications.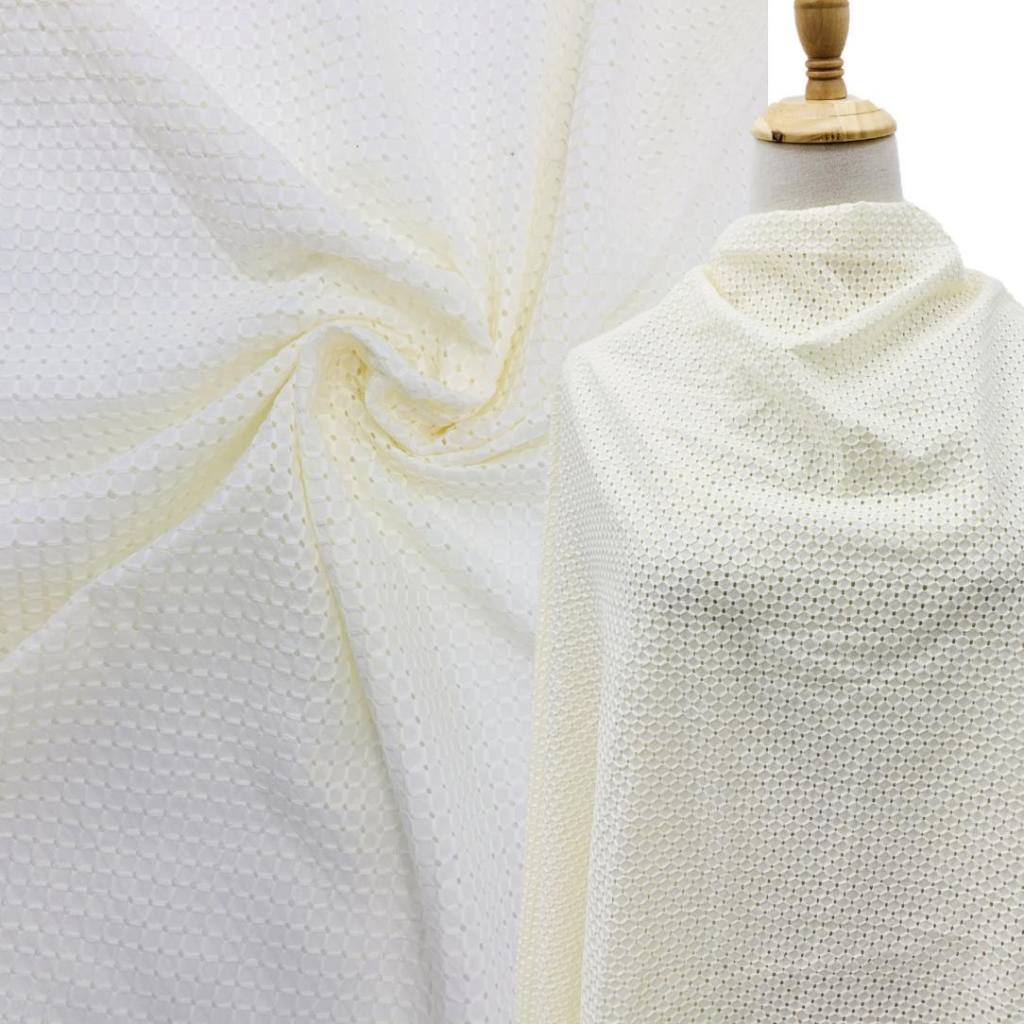 The Advantages of Eyelet Fabric:
It looks great on dresses, skirts, coats, jackets, bags, pillows, curtains, quilts, and more. You will love making these fun and fashionable items with eyelet fabric.
Eyelet fabric with both lengthwise finished in a scalloped pattern is perfect for use to produce lovely necklines, sleeves, and hems since it frequently contains a lacy or another decorative selvage. The term "eyelet" refers to the design of the Fabric rather than its fibre content or weave.
Embroidered Eyelet Fabric is a versatile fabric that adds texture and pattern to your projects. Get inspired by our pattern selection that includes everything from adorable baby clothes to trendy garment accessories.
Everyday Use For Eyelet Fabric:
It is used for many goods and clothing articles and is typically used in the summer. The magnificent patterns and designs of the needlework appeal to people of all demographics.
Daily Use:
Dresses and blouses for ladies are made from Fabric. It may also be used to create headbands and clothing for kids. You may buy pre-shaped eyelet lace collar pieces and sew them onto your apparel to give it a genuinely distinctive look if you utilize them.
Additionally, the cotton eyelet is used to create men's shirts.
Moreover, the application in wedding dresses, evening dresses, fashion, home textiles, etc., makes this kind of embroidery more attractive.
VIVATEXTILE is a professional embroidered fabric manufacturer in China providing high quality products at competitive prices and timely delivery. We are committed to offering new and exciting embroidered fabrics to our customers. Here are some reasons why you should choose us:
1) Rich experience in the industry: Our team has rich experience in the industry, which means we can provide you with professional suggestions for your choice.
2) Professional services: We offer a full package of professional services from design, production, and logistics to after-sale service. You don't need to worry about anything while buying from us!
3) High-quality standard: Quality is our first priority! We use high-quality material fabric to make our fabric as well as pay attention to every detail during the production process. All our products are carefully produced by our experienced workers so that they have unique styles and characteristics.
4)Competitive price: Thanks to our own production capacity, we offer competitive prices but never compromise on quality!
Conclusion:
VIVATEXTILE offers a unique fabric material that creates a soft and comfortable fabric without compromising on strength or durability. It is an innovative way to create a smooth and comfortable fabric. It is one of our most popular Fabrics, and we have lots of positive feedback from customers about its quality. You can read more reviews here. We have a wide variety of eyelet fabrics available for purchase.
For more product information or any other questions, please refer to our official website: VIVATEXTILE. We are here for your fashion any time!