Sequin Fabric & Beaded Lace Fabric Is Perfect For Your Wardrobe
What Is Meant By Sequin Fabric & Beaded Lace Fabric?
Sequin fabric & beaded Lace Fabric is a kind of fantastic fabrics widely used by fashion designers for making dresses.
It is a fabric made of sequins of different sizes, shapes and colours.
On the base cloth, mostly mesh cloth, densely embroidered or embroidered into dense patterns.
Beaded lace fabrics are fabrics made of sequins of different sizes, shapes and colours that are densely woven or embroidered into a compact pattern on top of a base fabric, mostly mesh.
Both qualities produce a fascinating tactile experience and boast a dazzling and excellent quality. What is more, Sequins and beads also can be perfectly matched in one pattern to create a more interesting and sophisticated appearance.
It was used as an alternative to silk velvet for evening gowns. Today, it continues to be popular for its luxurious look and feel and is used in more applications.
They are tiny sequins and beads in various sizes made from metal or plastic.
Sequins and beads can be embroidered onto fabrics to create intricate designs.
Sequins and beads have been used in fashion for years, but they are now making their way as embroidery material into machine embroidery.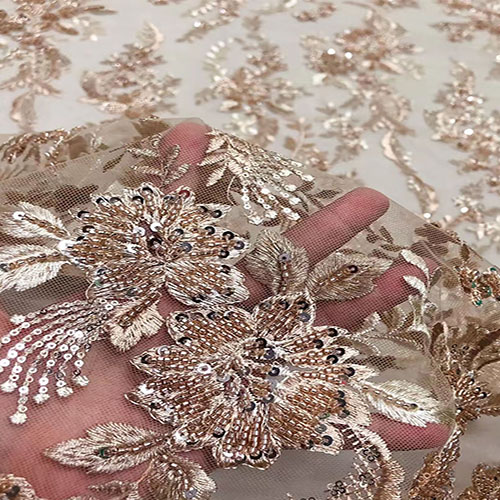 Importance Of Sequin Fabric And Beaded Lace Fabric:
Delicate tulles hold the sequin embroidery, whatever stripes or rows of multi-coloured sequins or densely packed sequins in different sizes to create a dazzling effect and overall boast a luxurious quality, perfect for evening dresses, full-length evening gowns, flapper dresses, tent dresses, holiday shirts, costuming applications, statement jackets and more.
Beaded embroidery lace fabric has been used for centuries by women around the world. Completing the dazzling and exquisite design, it is popularly used for making evening dresses and lingerie but has its place in the wedding dress industry too.
This beaded embroidered lace fabric is suitable for both indoor and outdoor applications. Holding its stretch on the weft of the mesh and with a flexible drape, the sequin fabric brings countless options to home décor as well. It is the ideal fabric to decorate the table and razzle-dazzle at the most formal event of the season.
Sequin pattern flows with your body reflecting glorious lustre, making you the spotlight on stage, its sparking effect makes it popular among young people who like fashion.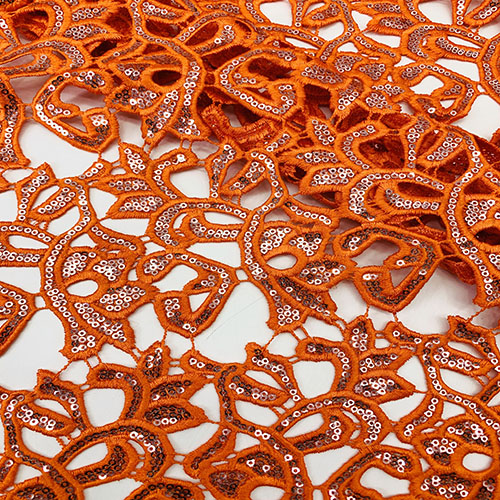 Safety And Care Guidelines:
Suggest Hand wash, 
Recommend dry cleaning
Avoid ironing
Do not use bleach
Never tumble dry.
Sequin And Beads: The Perfect Embroidery Lace:
It has many advantages over other types of fabrics. Some advantages are as follows given below:
Sequin fabric and beaded embroidery lace fabric are the kind of embroidery lace material that has been widely used in the fashion industry. It is trendy among young people. Its unique design and sparkling appearance can make the whole dress avant-garde, fashionable and distinctive. It can be an ideal gift for friends and family.
Sequin fabric and beaded embroidery lace fabrics are embroidered with high-quality polyester threads and decorated with 3D flowers, sequins and beads, which have been used as bridal body fabrics and accessories since the early 1900s. This is a great way to add sparkle to your outfit and highlight your dress sense.
Mesh is generally used as the base fabric. With some stretch in the weft direction, fluid, but with some volume due to the heaviness of the sequins and beads, it is the ideal fabric to create body-forming silhouettes. Its drape falls with ease.
This material is very soft and comfortable suitable for different occasions such as parties, weddings, proms, and graduations, and most widely used as a popular material for evening dresses, etc.
All these sequins and beads are pre-stitched to the material, making them easy to sew on and can be used by anyone who knows basic sewing skills.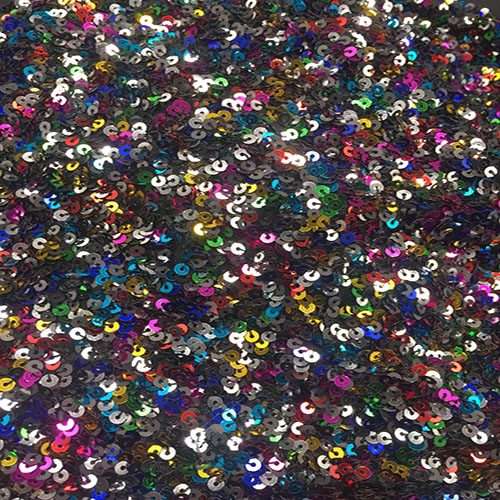 Sequin Fabric & Beaded Lace Fabric 
What Makes Sequin Fabric And Beaded Embroidery Lace Fabric So Unique?
Sequin fabric and beaded embroidery lace fabric is an exquisite pieces of art that will surely appeal to fashion lovers everywhere. It makes full use of the glittering effect of sequins, beads or tubes to produce fascinating visual enjoyment replying on the glittering effect of sequins, beads or beads. It is sure to impress everyone who sees it.
This fabric is heavy-duty, of excellent quality, and both stylish and robust. This beaded lace fabric has a variety of beads that are neatly and artistically sewn together to form an exquisite pattern on the mesh underlay. It also has lovely scallop edges completed on both fabric sides.
It gives a delicate, one-of-a-kind look from a natural gradient effect. It is the perfect fabric for mini dresses, evening gowns, and more since it has a somewhat stiff drape with pleasant flexibility across the weft.
With their intricate patterns, sequins add a touch of glamour to plain fabrics. They can also be used in other applications, such as fashion jewellery, bags, shoes or garment accessories.
Why Are Sequin And Beading An Essential Part Of Embroidery?
Sequin and Beading is a technique used to create intricate designs and patterns on fabrics to give them more visual appeal. It allows you to add colour and movement to your work and is a great way to express yourself.
It effectively adds detail and texture to your clothing without having to sew or crochet manually. It is also a fun hobby to pursue as a creative outlet.
It is used in embroidery, which involves attaching beads onto the surface of a pre-made thread. It is fun to embellish clothing and accessories with beautiful patterns and designs.
They are trendy among celebrities and actresses because they add glamour and style to the wearer. It is a very versatile method of decorating fabrics.
You will love these beaded sequins because they are so soft, easy to work with, and very affordable to buy.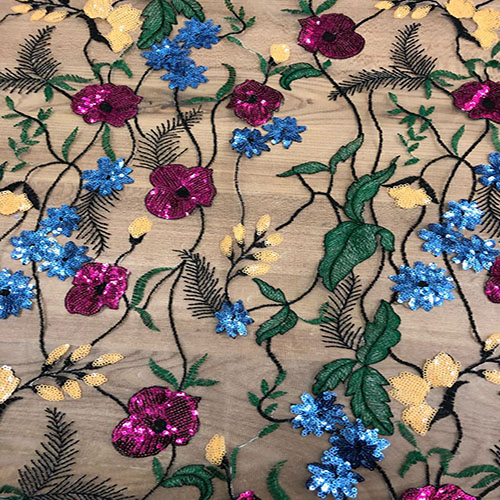 Conclusion:
Sequin fabric and beaded embroidery lace fabric are beautiful ways to add elegance to a variety of outfits. Embroidered lace has been a popular choice for many years and is still growing in popularity today. In addition to giving items a beautiful look, these laces also offer unique textures and patterns. To give something special and elegant, pick out the right embroidery lace.
VIVATEXTILE has been producing and selling sequin fabric and beaded embroidery fabric for years, and we have rich experience in manufacturing. Women around the world widely use our products. If you are looking to decorate an item or outfit but don't know what embellishment to choose, our collection of sequin fabric and beaded embroidery lace fabric could help.
We have a wide range of sequin fabric and beaded embroidery lace fabric available. We promise to offer you the best service and the best price. Feel free to contact us if there is anything else.