The Widely Used Embroidered Fabric: Novelty Embroidered Mesh Fabric
What Is Meant By An Embroidered Mesh Fabric?
Embroidered mesh is the fabric beautifully embroidered on mesh fabric by advanced computerized embroidery machines. Based on various weaving techniques, its ground materials which are primarily made of polyester and nylon, may be broadly classified as lace, organza, nylon/polyester mesh, diamond mesh, mesh tulle and others.
The romance-filled mesh fabric is light and full of stretch with delightful soft hand.  Embroidery on the mesh creates an elegant and romantic visual effect, it drapes gracefully and is ideal fabric for women's apparel and bridal gowns.
How Is Lace Mesh Manufactured?
Embroidered mesh is manufactured in following 4 steps:
Embroidery
Fabric dyeing
Fabric setting
Embroidery inspection and repair
Why Is Embroidered Mesh Fabric Widely Used?
Embroidered mesh fabric is a great way to add texture and fashion to your application. A new way to create beautiful laces and fabrics. Its embroidery yarn can be polyester, cotton, rayon, and metallic yarn to bring different hand-feel and dynamic textural effect. A new way to create beautiful pieces of art using lace and mesh as base material. It is a new technique to enhance the beauty of bridal dresses, fashion lingeries or daring night look. This embroidered mesh enhances your beauty because it drapes beautifully with exquisite embroidery and moves with ease.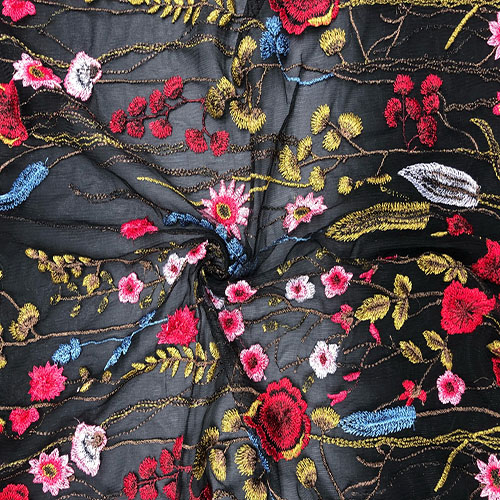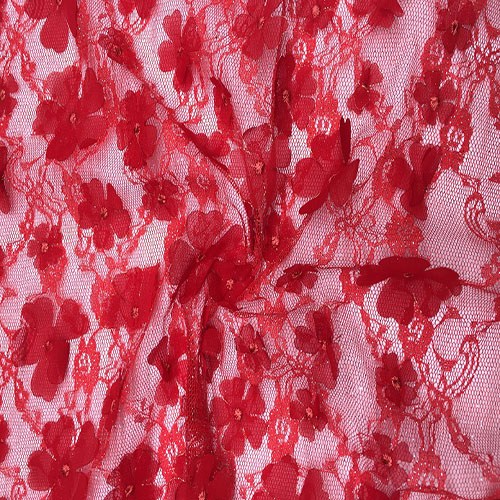 What Can Embroidered Mesh Fabric Be Used For?
These novelty embroidered mesh fabrics are used in a wide variety of applications besides bridal gowns! Here are a few examples:
Bridal wear
Evening wear
Casualwear
Handbags and garment accessories
Curtains
Table coverings and other home textiles
What Is The Purpose Of It?
With beautiful embroidery design intricately woven atop a solid sheer mesh, the embroidered mesh is soft and textural. Same as knit lace, It is a decorative fabric to create gorgeous dresses and household goods, but it is a better substitute of knit lace as embroidered mesh requires lower MOQ and can do flexible sampling in production.  
How To Manufacture A Novelty Embroidered Mesh Fabric?
All these beautifully embroidered mesh fabrics can be manufactured by computerized embroidery machines. According to different design repeat, different type of embroidery machines can be selected for production to realize the variety of patterns, and different mesh fabrics can be used to produce different styles of mesh lace based on customers' requirements on hand-feeling and texture. The embroidery can be cotton, polyester, metallic, corded yarn or with sequin and beads.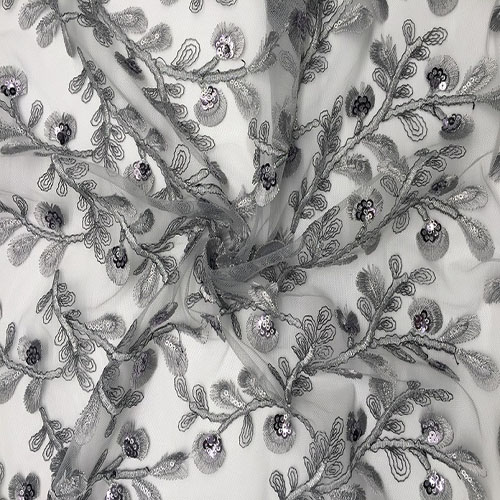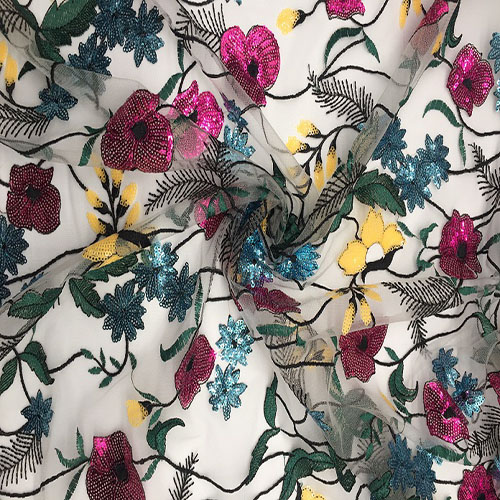 There are four steps to produce such one:
Draw CAD of of the embroidery design
The designer draws the CAD in the computer according to the original sample or the design drawing stitch by stitch. Usually some complicated designs take one or even two days for the designer to complete it.
Make sample fabric to confirm the quality
Make the sample fabric on the sampling machine to confirm the quality and all the details are right for production.
Make bulk production on the bulk embroidery machine after the customer's approval on the sample fabric. The base of mesh embroidery is mesh fabric and water dissolving paper.
Bulk dyeing and finishing
After bulk embroidery, the fabric will be sent to dying mill to do bulk dyeing and finishing, The base water dissolving paper will be melted by hot water afterwards with novelty embroidered mesh left behind.
 The Embroidered Mesh Fabric Makes Your Embroidery Look Fantastic:
Embroidered mesh fabric is a very versatile material. A new style of fabric that gives your design a gorgeous finish. They use it as a decorative accent on clothing. Make a magnificent piece of artwork with this easy technique.
New embroidery mesh fabric is perfect for making everything from scarves to headbands. It's also available in a variety of colors, so you can choose one that matches your style perfectly.
It is designed to be used with both hand and machine embroidery machines. It has a unique combination of qualities that create an exceptional finished product. 
Our quality embroidered mesh fabric is perfect for creating beautiful designs on clothing and ideal material to create lovely dresses, overlays and more.
Iis a trendy choice among fashion designers and wears alike. It is trendy among women who love wearing intricate clothes. Embroidered Mesh Fabric is one such material that many celebrities and celebrities' weddings have widly used.
Embroidered mesh fabric with our new embroidered mesh fabric technique and designs, you can create beautiful designs on clothes.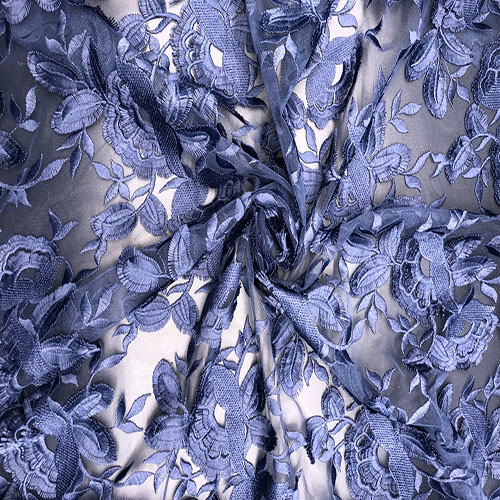 Advantages :
It is an ideal choice for making beautiful dresses for spring and summer seasons. Embroidered mesh drapes beautifully with a good one-way stretch allowing comfort and ease.
It is easy to sew and machine washable. Embroidered mesh fabric is soft, skin-friendly and comfortable to wear. With a fuller drape and soft hand touch, It is also known as fancy mesh fabric.
It is trendy among fashion designers. Furthermore, it can be solid and multi-colored. It is not only eco-friendly and durable, but also cost-effective, as it is easy to create beautiful and exquisite designs on the mesh base fabric to unleash a sense of romance and elegance by less embroidery stitches.
It is a new fabric that some designers have used as their favorite material. It is a very comfortable and soft fabric with its smooth texture and lightweight, and Embroidered Lace Material is perfect for making an attractive dress.
Embroidered mesh fabrics are an excellent choice for bag makers who want to create unique designs. It is thin with a light weight allowing its drape to have a bit of volume and flexibility and a very smooth finish.
Conclusion:
Embroidered mesh fabric is an attractive textural fabric that combines both functional and fashion qualities. In addition to its exquisite and elegant appearance, the material is very popular with the fashion designers. VIVATEXTILE offers a wide range of the most popular designs in this product that is of the highest possible quality. And what is more, Viva textile can do customized designs and protect your copy rights. It is not only a manufacturer, but also your reliable design partner of embroidered fabric. Join Viva textile to explore more possibility on embroidered mesh fabrics!