How floral embroidered cotton eyelet fabric makes dresses popular?
What is Eyelet Fabric?
You can quickly identify eyelet fabric by its characteristic pattern of many tiny geometric cutouts, which are often filled up with embroidered threads. Due to the fact that eyelet fabric usually has a lacey or otherwise ornamental scalloped selvage on one side or both sides, it is ideal for use in the creation of charming hems, cuffs, and necklines. The small holes made into an eyelet material produce a distinctive pattern.
The term "eyelet" refers to a pattern sewn into a fabric. Not the type of fiber or weave used in the fabric. The embroidery technique is to engrave holes on the base cloth first. Then the holes are neatly embroidered at the same time to form embroidered eye holes of different sizes and patterns, which are full of texture. Although its color can be dyed any color. But the most common color choices are timeless shades like black, ivory, and white. They are the most popular. The appearance of eyelet cloth is able to conjure up images of both the recent past and the current day. Garments made from eyelet textiles can have a variety of understated, feminine, edgy, romantic, fanciful, elegant, quirky, and fanciful qualities, depending on the design that is used.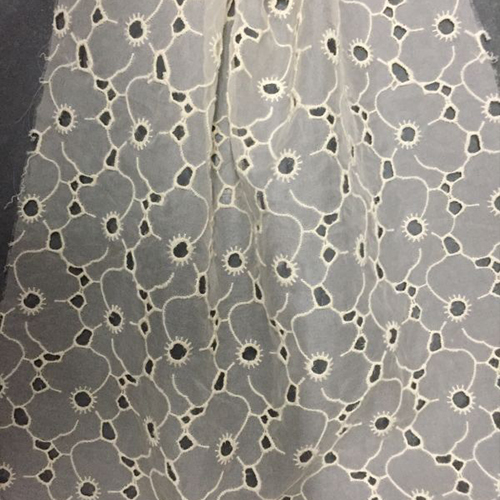 The popularity of Vivatextile Floral embroidered cotton eyelets:
Floral embroidered cotton eyelet has always been popular, but in recent years they have taken on new forms and characteristics that are more in line with current fashion. This fabric is excellent for any summer event dress; Whether you're going on a cruise or having a backyard BBQ. You are sure to find embroidered cotton fabrics to sew your garments on and make your event even more enjoyable. Whether you're going on a cruise or having a backyard BBQ. Dresses made of floral embroidered cotton eyelets are perfect. Vivatextile offers a wide range of floral embroidered cotton eyelets. to meet all your needs. They have hundreds of popolar floral designs for fashion buyers.  
From the variety of colors and patterns that are offered, you may choose the one that is most suitable for you:
Grace and delicacy are two qualities that are highlighted wonderfully when a lady wears a lovely floral eyelet fabric dress. This may have the additional effect of making women seem more beautiful, particularly younger ladies. In addition, you have the ability to personalize the dress to your specifications by selecting a color and design of Floral embroidered cotton eyelet that complements your complexion, hair, and makeup the very best.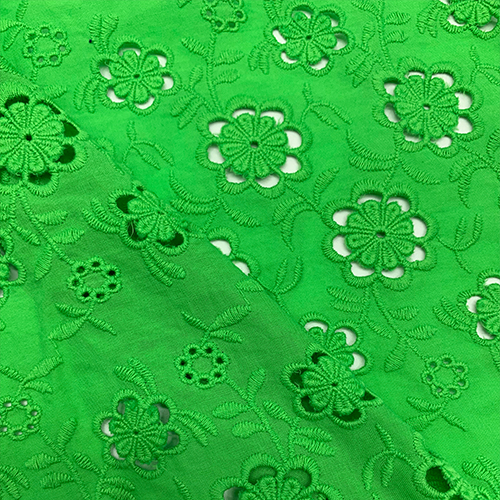 Some events call for floral eyelet fabric dresses more than others, and some of those instances are listed here:
You really can't go wrong with a floral eyelet fabric from vivatextile since it manages to be both charming and sensual at the same time. The floral pattern looks well on a wide variety of body shapes, and the fabric lends an air of refined sophistication to the overall design. You can style this fabric for ruffle cap sleeves, a tiered skirt, and a low V-neckline in many other ways.
Because it is both breathable and comfy, eyelet fabric is an excellent choice for use in warmer climates:
The holes in the fabric are almost unnoticeable. When it's hot out, they are the perfect thing to wear since the holes allow air to circulate through them. Having a knack for drawing perspiration away from the body along with anti-statci qualities, eyelet fabric is an excellent option for warmer climates. In addition, the eyelet fabric is often constructed from natural fibers that are both breathable and absorbent, such as cotton. They are perfect for wearing on a warm summer day since they provide the right amount of style without being too constricting.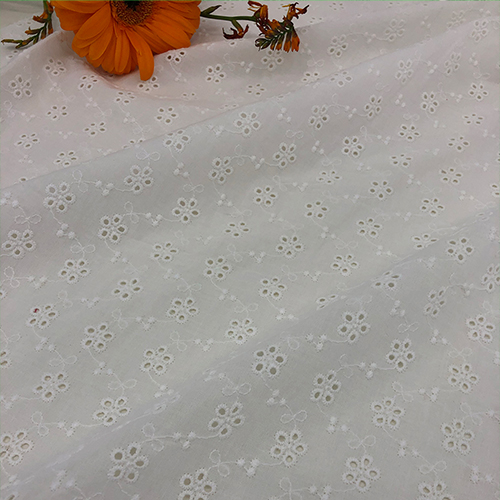 In addition to being attractive and feminine, the eyelet fabric design has the potential to elevate an outfit to the next level:
Exhibiting a floral design with embroidered opening, the fabric has recently become quite popular, and for a good reason.It goes with almost any outfit. And add an air of refined elegance to any outfit you choose. Thanks to the adaptability of the eyelet fabric. You can choose the length that best suits your personal style. Whether you prefer fun short dresses or flowy long gowns. You can all sew gorgeous eyelet dresses out of this fabric. Whatever your preference, there is a Floral embroidered cotton eyelet out there for you. Because of their adaptability, eyelet clothing is so versatile that you will never get tired of wearing them.
Bring a touch of elegance and femininity to the table; an embroidered floral pattern can be all that's needed to make the change:
Dresses with eyelets are a timeless classic that's perfect for any occasion. Delicately embroidered floral designs give this dress a one-of-a-kind look. It's perfect whether you're heading to the office or on a tropical vacation. When it comes to elevating the delicate glamor of eyelet dresses. Just adding a little bead can make all the difference. It's a smart move to make if you want to seem more put together without going over the top. It is a beautiful opportunity to show off your jewelry. If you want to add a touch of sophistication to your vacation, the embroidered floral cotton eyelet fabric dresses would be an excellent addition to your luggage.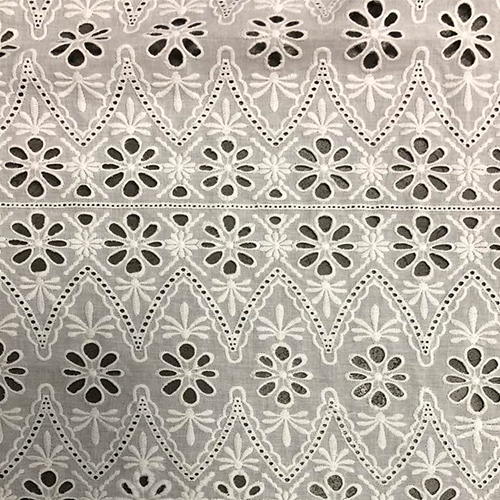 Conclusion:
It doesn't matter whether you're going to a summer party in June or just an ordinary day at the office when you put on embroidered floral cotton eyelet fabric dresses; everyone will agree that it will steal the show. A cotton fabric with eyelets gives the wearer an air of effortless enlightenment and ease, no matter the setting. The eyelets on the fabric create incredibly distinctive patterns, each of which is one-of-a-kind. In spite of the fact that they appear to be light, they play a significant role in bringing an outfit together and making it stand out.