Exquisite Bridal Lace Fabrics for Wedding Dresses - Elevate Your Bridal Collection!
What is bridal lace fabric?
Characterized by its delicate and intricate patterns, often featuring floral motifs, scalloped edges, and ornate designs,bridal lace fabric is known for its elegance, grace, and romantic appeal, making it a popular choice for brides who desire a timeless and sophisticated look.
Bridal lace fabric is typically made from high-quality materials such as silk, organza, chiffon, or tulle. These materials provide a soft and luxurious feel while maintaining the lightweight and airy nature of the lace. The fabric is often embellished with embroidery, beading, sequins, or other decorative elements to enhance its beauty and create a captivating effect.
Bridal lace fabric has a timeless appeal, transcending trends and remaining a classic choice for brides. Its delicate and intricate designs, combined with the fine craftsmanship involved in its creation, make it a symbol of romance and femininity.
Bridal lace fabric for our beautiful brides:
A meticulously crafted wedding dress, made from superior quality embroidered lace fabric holds profound significance for the bride.
A wedding day is a culmination of dreams, love, and lifelong aspirations. For the bride, the wedding dress is a symbol of her unique identity and personal style, reflecting her innermost desires and dreams. A wedding dress created with utmost care and attention to detail, using exquisite embroidered fabric of exceptional quality, carries deep meaning for the bride.The intricate embroidery, delicate patterns, and luxurious textures woven into the fabric showcase her elegance, grace, and beauty. It becomes a tangible representation of her individuality, capturing her essence and accentuating her radiance.
Beyond its aesthetic appeal, a well-designed wedding dress made from high-quality embroidered fabric enhances the bride's confidence and self-assurance. It embraces her curves, drapes flawlessly, and provides unparalleled comfort, allowing her to move with grace and poise throughout the day's festivities. This exceptional quality and attention to detail elevate the bride's overall experience, making her feel truly special and cherished.
The use of bridal lace fabric allows designers to create stunning wedding gowns that reflect the bride's personal style and enhance her natural beauty. Whether incorporated as a full gown overlay, used for sleeves, bodice details, or incorporated in the veil, bridal lace fabric adds a touch of elegance and sophistication to the overall bridal ensemble.
What type of embroidered lace fabric can you choose for bridal lace fabric?
When it comes to selecting the ideal embroidered fabric for bridal lace, several factors contribute to achieving a truly exquisite and captivating look. Viva Textile offers a wide range of exquisite options to suit your needs. Here are some of the types of embroidered lace fabrics you can choose from:
Floral Embroidery:
Our floral embroidered fabrics feature delicate and intricate floral patterns, ranging from traditional roses and lilies to contemporary abstract designs. These designs add a romantic and feminine touch to bridal lace, creating a timeless and elegant look.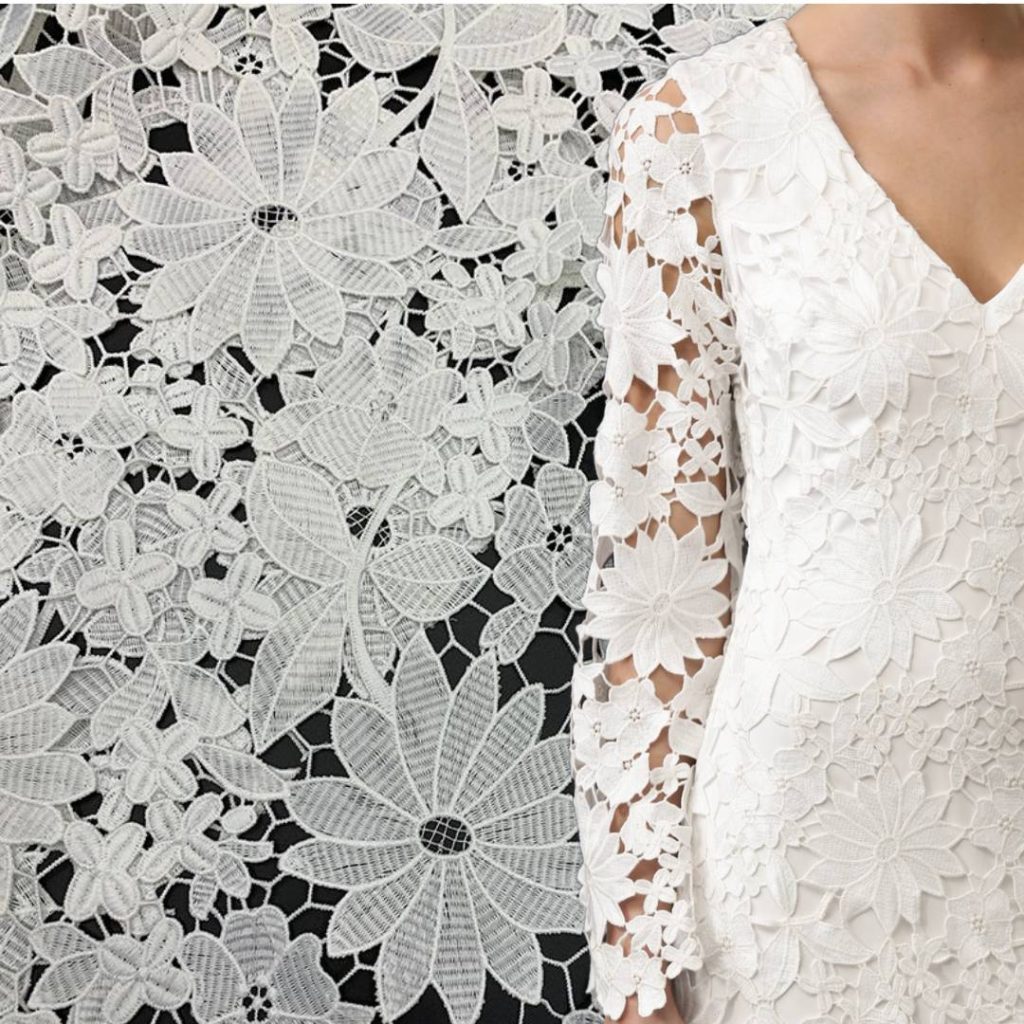 Guipure Lace:
Guipure lace is a popular choice for modern bridal designs. Its unique, dense patterns are created by connecting or filling in the spaces between motifs. Our embroidered Guipure lace fabrics offer a contemporary twist with embroidered elements, adding texture and depth to the lace and giving a chic and stylish look to bridal wear.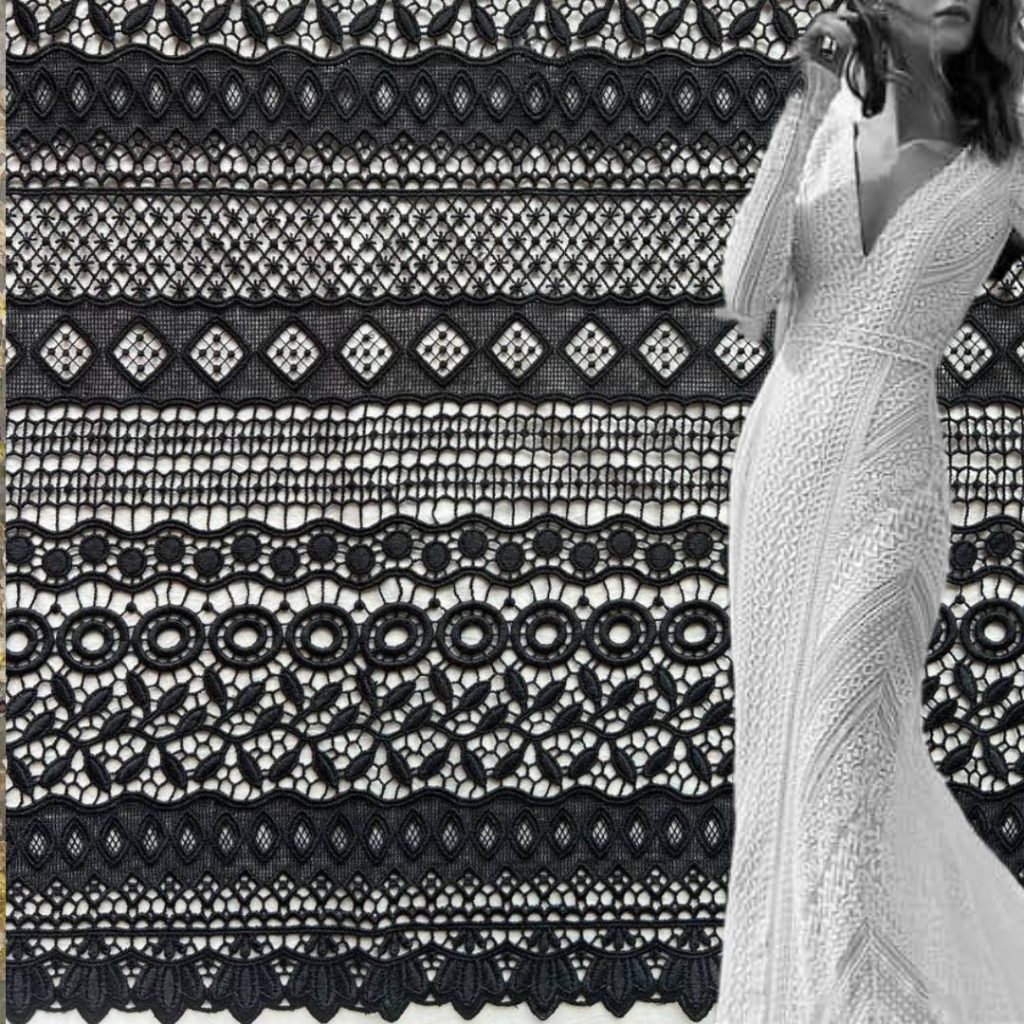 Sequined Mesh and Beaded Lace Fabric
If you desire a touch of sparkle and glamour, our sequined mesh and beaded lace fabrics are the perfect choice. These fabrics feature delicate beadwork and sequins meticulously embroidered onto the lace, creating a dazzling effect. The combination of intricate embroidery and shimmering embellishments adds a luxurious and enchanting touch to any bridal gown.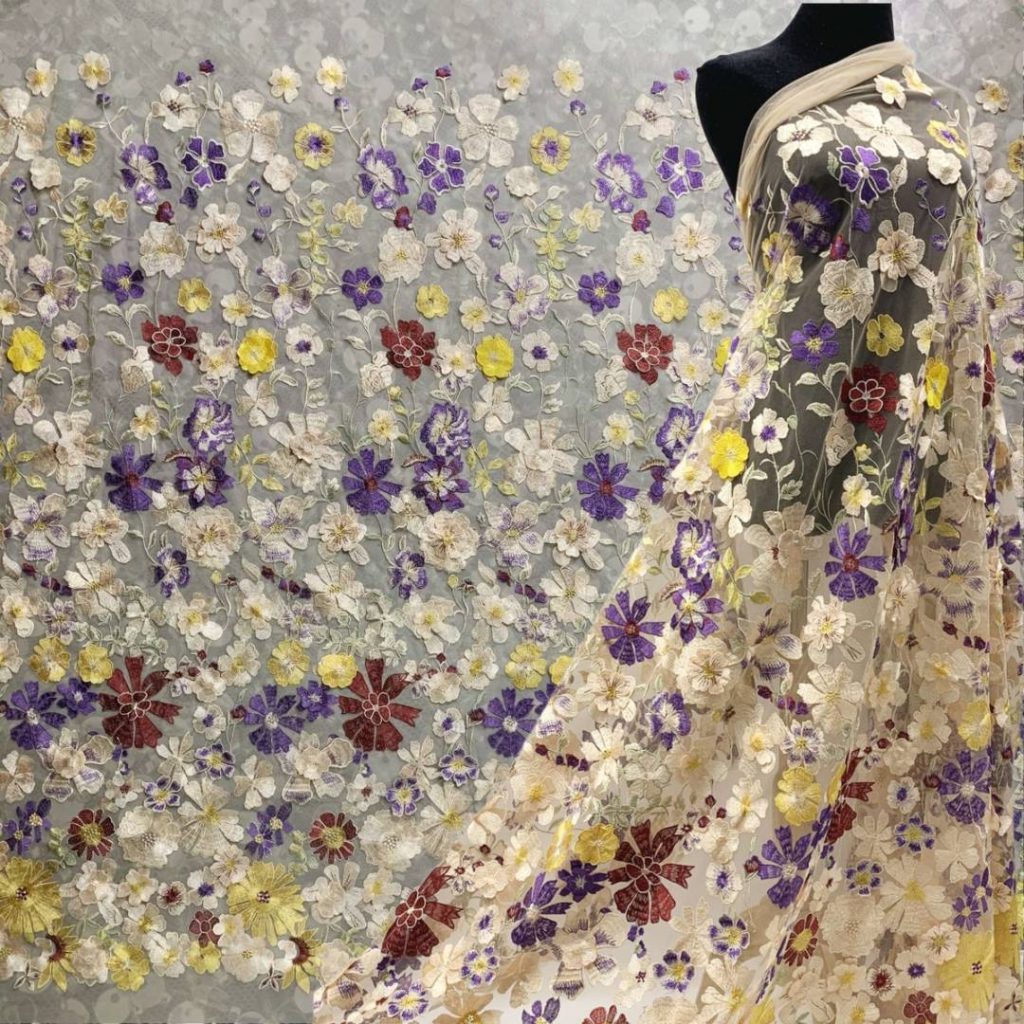 Embroidered Tulle Fabric
Embroidered tulle fabric is another classic option for bridal lace. It is a delicate lightweight lace with fine threads and features delicate floral details, creating soft, romantic looks in bridal attire.
Normally the floral details on the tulle fabric is with corded edges to add the texture and depth of the lace fabric. You can also choose embroidered tulle fabric with metallic thread, this type of fabric adds a touch of glamour and modernity to the lace, making it stand out.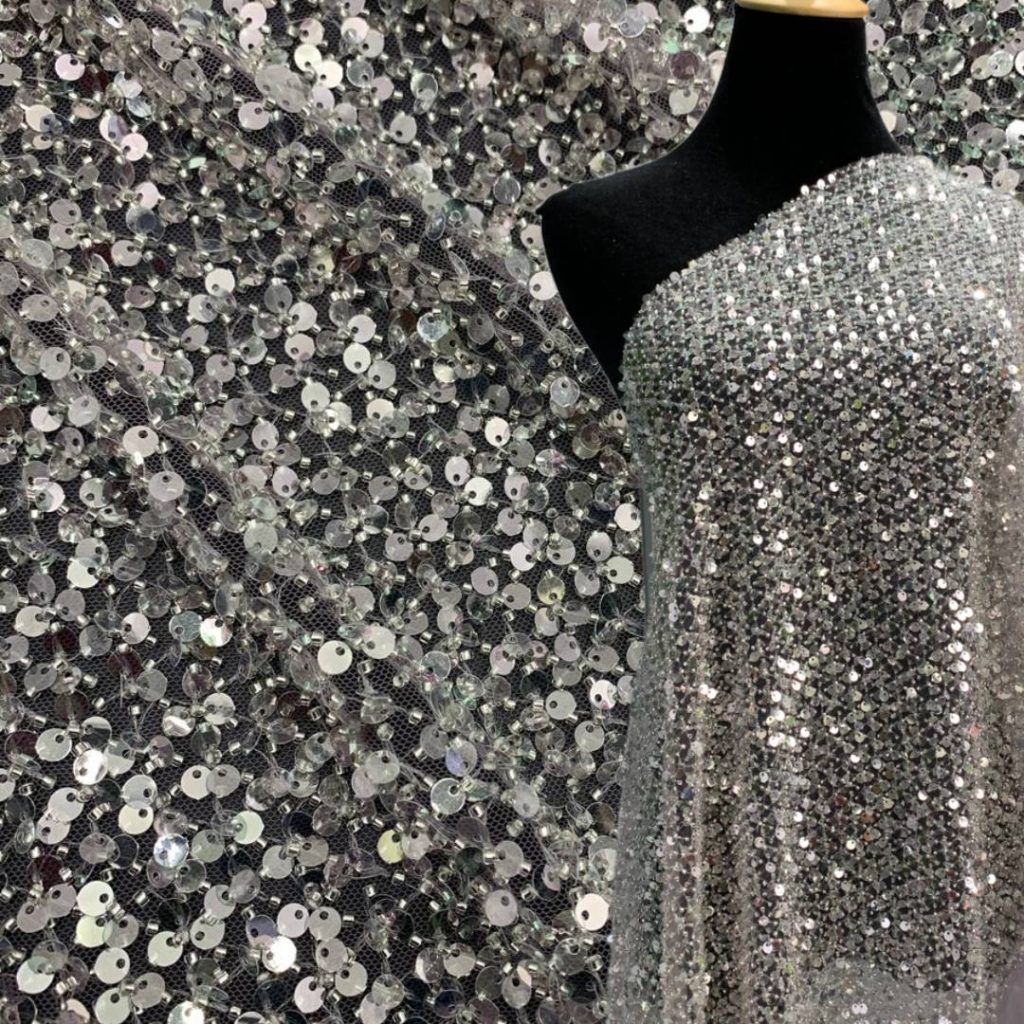 Cord Embroidery Fabric:
In recent years we have seen substantial growth in bridal gowns that feature the use of corded lace as an embellishment. Seeing our brides thriving for Corded Embroidery Bridal Fabric, we decided to provide them the corded fabric with 3D and visual effects. We take a look at corded bridal lace in this week's post on the Bridal Fabrics and present you with options on our website; go and check the fabulous corded fabrics for bridal gowns, and what do you think are the most beautiful?
The lace on the wedding dress is the height of elegance; The design consists of floral motifs that are either large or small, each of which is softly colored with lustrous embroidery thread and then emphasized with fine cording. These patterns are also offered as appliques.
Why Viva Textile is your ideal supplier of bridal lace fabric?
As a professional manufacturer specializing in producing embroidered fabrics for bridal lace, we take pride in being the ideal supplier for your wedding dress embroidery needs. Here's why we believe we are the perfect choice for you:
1.Superior Quality: We are committed to manufacture the embroidered fabrics in the high quality. Our materials are carefully sourced, and our production processes adhere to stringent quality control measures. By choosing us as your supplier, you can be confident that you will receive quality-assured bridal lace fabrics.
2. Wide Variety: We offer a wide variety of embroidery fabrics. Provide you with a variety of options to meet your specific design requirements. From delicate floral prints to intricate patchwork, we have an extensive collection to suit every style. Make sure you find the perfect fabric to bring your bridal designs to life.
3.Customization Options: We understand that each designer has a unique vision and may require customized solutions. We offer flexibility in terms of customization, allowing you to create bespoke embroidered fabrics tailored to your specific preferences. Our skilled technician can work closely with you to translate your designs into reality, ensuring that the fabric perfectly aligns with your creative vision.
4.Low MOQ: We can do flexible sampling and low MOQ to run bulk production. 1.5yds of flexible sampling and 20-20yds to run bulk production to help designers and wholesalers to expand their business.
5.Timely Delivery: We understand the importance of meeting deadlines in the fast-paced world of fashion. As your supplier, we prioritize timely delivery, ensuring that your orders are processed efficiently and shipped promptly. We value your time and are dedicated to providing a seamless and reliable supply chain.
6.Competitive Pricing: While we strive for exceptional quality, we also aim to offer competitive pricing. We understand the need for cost-effective solutions
Wrapping up!
At Viva Textile, we specialize in producing embroidered fabrics for bridal lace fabric that embody all these qualities. Our collection features delicate and intricate designs, exceptional construction, and a range of customization options. We take pride in delivering fabrics that enable designers to craft breathtaking bridal gowns, making every bride feel like a vision of beauty on her special day.